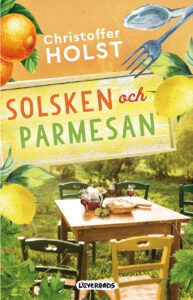 Rights sold
Denmark: Flamingo
Estonia: Krimiraamat
Norway: Cappelen Damm
Sweden: Lovereads
Russia: Eksmo
Nominations & Awards
Short listed at the Storytel Awards 2021
Rasmus is a former star in a dance band who spends his days on his sister's couch having a really hard time getting over his ex-girlfriend. 
Hilda loves cooking more than anything else in this world. But her job as a chef at a day care doesn't fully satisfy her dreams. Especially not since she started hooking up with the boss…
To get out and see the world, she and Rasmus have booked a trip to Tuscany where they will learn to cook Italian cuisine. While still at the airport, there is a turn of events because the hotel in Italy has burned down to the ground. Instead, now the trip will go to a quaint little bed & breakfast in Öregrund, by the coast of Roslagen, Sweden. 
Once there the members on this cooking trip will get to know each other closely and feelings will blossom. Meanwhile secrets that they are trying to keep hidden will stir up trouble. 
320  pages
Reviews: 
"It has to be mentioned: make sure to eat a stable dinner before beginning to read this book. Or at least have something prepared. You will get hungry... With clever wordings and an ability to find the comic relief in the mundane Christoffer Holst has written one of the best Swedish Feel-good novels I have ever read. The text is filled to the brim with love for both the characters and the Italian kitchen. And the wine brings the reading to a new level. The perfect warm read!" 4 hearts - Ica Kuriren magazine
"WOW! Just finished reading and it leaves me with a smile on my lips and a craving for Italian food. A Good Read novel wrapped in soft cotton that just makes you smile and feel comfort knowing everything will be alright. Holst has done it again – and even out-done himself with another page turner leaving me with the feeling of longing for the next one!" – Millimys, book blog
"Christoffer Holst is a master at Feelgood. Sunshine and Parmigiano is a wonderful and cozy novel that works during any month of the year! Maximized coziness! 5 out of 5 stars."  Bookishkyfalling, book blog
"Christoffer Holst is back with a Good Read and presents a colorful yet relatable group of characters that are likeable… it contains a great amount of passion for food and people's life stories. I find it really soothing that it's a tad predictable because it makes me relax knowing that things will fall into place. SUNSHINE AND PARMIGIANO is true to the genre because it offers laughter, tears and wine and leaves you with the same feeling you have after a successful dinner event with close friends." - Johannas deckarhörna, book blog