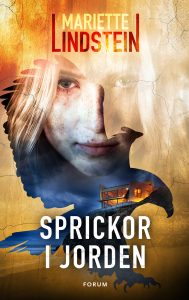 Rights sold
Germany: Blanvalet
Sweden: Forum
Poland: Bukowy Las
The twins Alex and Dani are seeking to recover after Dani was kidnapped by an elitist cult.
They leave Sweden and move to a house by the ocean in California. But, starting a new life isn't easy. Even though Dani has a newborn son, the trauma from the violence that the cult put her through has left her cold and hard to reach.
Meanwhile, Alex is repressing the horrific events and suffers from flashbacks. In the midst of it all is Carl, Alex's boss and lover, who is doing everything in his power to protect them.
Then one day a mysterious and charismatic woman shows up in their lives. She claims to be working for a charitable cause that Carl is passionate about.
Carl's behavior begins to change. Their zone of comfort fades. A new nightmare begins. The cult has a new target: Dani's infant son.
Cracks in the Earth is the thrilling sequel to Mariette Lindstein's acclaimed cult thriller White Crypt.
380 pages
Reviews: 
"Mariette Lindstein has become a very capable author of thrillers with great width." - Dast Magazine
"Frightfully believable about cults and their drug rehab-facilities!" -Dagens Nyheter
"An extremely suspenseful story where the reader constantly is tenterhooks together with the main characters." -Johannas deckarhörna/Amelia
"The emotions capture the reader, you feel with the characters, get mad, sad, laugh and smile. Insanely good! A full pot." - Svenska böcker/Swedish Books
"The author is a master at just this – writing captivating cult-thrillers!" Bokhyllan/the Bookshelf
Reviews on the previous part in the series
"Suspenseful about cults and fraternal and their power over their members, a subject that Mariette Lindstein masters. At one point you suspect everyone." - Lotta Olsson, DN
"This book is completely in line with #metoo. Lindstein shows with her enormous knowledge and many years experience of cults how dangerous the combination of oppression, manipulation and cult-mentality is. The question arose in me: How far are people willing to go in the name of religion? I want reading to force to afterthought and critical reflection: This book does exactly that." - Mindy Joy Lifestyle blog
"Make sure to remember White Crypt if you liked the Cult on Fog Island trilogy" - Blekinge Läns Tidning
"Wow! It gave me shivers down the spine and chills deep into the bone. It is so realistically written that you want to go into the book and help! But you have to make do with sitting in the sofa and letting the tension vibrate all the way down into the toes." - Jessica's blog
"What a book! So suspenseful I could not put it down. Very well written. It really has everything!" - The Book-lady
"Riveting from the first page, and then more and more suspenseful. But despite the tension there is a beautiful calmness in the story – I really liked that." -Straight book talk
"So fantastically well written, with the right ingredients that spellbind you. The story creeps under your skin as you perceive clues and connections. Absolutely perfect!" -Anna's blog