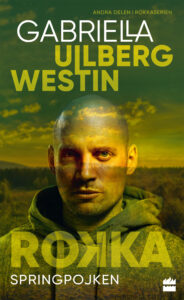 Rights sold
Bulgaria: ERA Publishers
Denmark: HarperCollins Nordic
Finland: HarperCollins Nordic
Germany: HarperCollins Germany
Norway: HarperCollins Nordic
Sweden: HarperCollins Nordic
The Czech Republic: Computer Media
The day after her student graduation party eighteen year old Tindra Edvinsson is found stabbed to death on the lookout at Köpmanberget. The murder is very reminiscent of a case twenty years ago when a young woman disappeared without a trace from the same place and after her graduation party.
Detective Inspector Johan Rokka gets the information and painful memories rise - the missing woman was his childhood sweetheart Fanny - and in parallell with the investigation, he begins to unravel in the old case. Rokka himself is hiding a criminal background from his youth, now he finds himself in contact with the rough criminal world he chosed to leave. Suddenly he is once again face to face with a person he most of all wants to forget.
Rokka could identify with the gang's young errand boy, Eddie. Rokka knows what type of hell this young boy is put through, he knows Eddie and has seen it coming. The mechanisms behind becoming an outlaw are deeply rooted in Rokka's mind, he broke the evil pattern, but will Eddie do it? And how far will Rokka have to go to leave his former life behind for good?
This is the second part in the Rokka series.
400 pages
Reviews
"I absolutely devour the book! It has everything a really good crime novel should have plus an extra spice with passion that blend perfectly into the otherwise dark story. Treachery, lies and revenge and Johan Rokka sailing up as one of my favorite characters. 4,5 out of 5! "
Anna's deckartips
"The Runner" is a well-written crime novel with a good drive and coherent story.
Well-written and exciting with a stylish mix of both international and local.
Rating: 4 "
Lotten bokblogg
"One of the best crime novels to read this summer "
Svenska Deckarfestivalen
http://www.metro.se/noje/har-ar-sommarens-basta-lasning/Hdzpfo!0oT@rNnhCl0Dx6arQ48TA/
"The book is easy to read, has a good pace and is so exciting, it's easy to forget about everything and just continue to read, even though it is passed night time, to find out how it all will end."
Boklysten