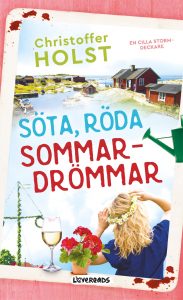 Rights sold
Denmark: Gyldendal, flamingo
Estonia: Krimiraamat
Finland: WSOY
Germany: Heyne
Lithuania: Obuolys
Sweden: Lovereads
Norway: Cappelen Damm
The Netherlands: Stortebeeker
Russia: EXEM Publisher (Imprint at EKSMO)
Nominations and Awards
Shortlisted for Best Audiobook in the Romance Category at the Mofibo Awards 2020 - Denmark
Sweet, Red Summer Dreams is a charming story in which an unexpected love takes place and a mysterious murder disturbs the otherwise peaceful life in the Swedish archipelago. 
Cilla Storm has been dumped by her boyfriend. Her career as a gossip magazine journalist is not really what she pictured and with a budget cut in half her savings are no longer enough to buy that dreamy summerhouse in the countryside. The only thing she can afford after the breakup is an allotment with a small garden house on Bullholmen – a touristy little island in the prodigious archipelago outside of Stockholm. Even though she completely lacks green fingers when it comes to gardening she decides to buy it.
Cilla's life gets an unexpected twist when a young woman is found dead on the island on the morning after midsummer's eve. It turns out that Cilla was the last person to have seen the woman alive and she gets dragged into the murder investigation – lead by the very handsome police officer Adam.
The slightly neurotic and Chardonnay-loving Cilla and the strict, well-dressed Adam are as different as two persons can be – yet they are attracted to each other. But then another murder takes place on the island…
304  pages
Reviews: 
"Pure reader's joy straight through the whole book..." - I Hyllan, Book blog
"I want to make marks in it, share it and read it again. Talk about mood-booster." - Boktokig, Book blog,
"This is a really charming hybrid between suspense, romantic comedy and chic-lit." DAST magazine
"The perfect mix of suspense and Feel-good!" - Bettans Boktips, book blog
"Exciting, cozy and funny." - Romance in Swedish, book blog
"What a page turner! What a Feel-good! What a cosy crime novel!" - Evas bokhylla, book blog