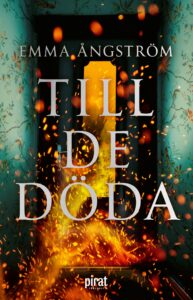 Rights sold
Sweden - Piratförlaget
 He will be gone for more than a week. I open my calendar and makes a mark on today's date. Eight more days. I will prove to myself that I can do this. I'm slipping into my nightmarish state, but I will fight it.  The fear will not win.
A young woman and her newly wedded husband move away from the city life to a countryside mansion where they will plan their future together. Everything is perfect. She will finally be able to realize her dream of opening her own little boutique. And she is really looking forward to starting a family. But nothing goes the way she planned. The beautiful mansion holds a dark past and even with the husband gone she still feels someone's presence in the house. What are the previous house owners not telling them? And will she be able to stand being alone until her husband gets back.
To the Dead Ones is a story about sorrow, womanhood and mental illness.
250 pages
Reviews:
"A painful description of hope being destroyed, of a miscarriage, of being on the verge of insanity. What is true and what is only in your own head? How do you know what to trust and what not? Ångström is truly a master of anxiety-filled horror stories. I don't know who balances that as well as she does, it's a psychological thriller paired with horror." - Carolines bokliv, book blog
"Holy crap what a page turner this was. really uncomfortable. I got both gas light vibes and Susan Hill vibes. Well written and furiously elegant. More horror than psychological thriller about difficult subjects." – Marie in Sweden, book blog
"A really creepy book! I kept asking myself why I'm putting myself in this position to read Emma's writing since it always scares me. She is a master of psychological horror novels and she has done it again. This time around it is even more cruel and tearing since it treats such a sensitive subject. The longing for a child that over and over just won't stick and become a real thing. I don't want to give to much away but I had to read it with the lights on." - bibbloagneta, book blog
"I couldn't put the book down. I recommend it to anyone who wants to read a psychological thriller with depth that will make you think about it long after you put it down." - @Jenny_shima instagram