White Crypt (Vit krypta)
Mariette Lindstein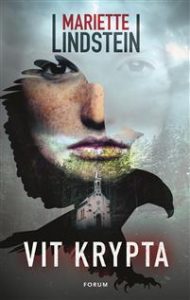 Rights sold
Sweden: Forum
Alex and Dani are identical twins, inseparable since their parents abandoned them as teenagers. In the year they turn twenty-two, Dani goes missing during midsummer night eve. The search goes on for months without any clues about her disappearance.
When people in Alex' life try to convince her to forget what happened, she cracks, has a nervous breakdown, and spends a month catatonic in a mental hospital. When she is finally released, there is a single thought in her mind: Find Dani.
To make a living while looking for her sister, Alex gets an employment at the storied dating service Ash & Coal. That's where she meets the successful and attractive psychologist Carl Asher. Shortly afterwards strange things begin to occur. Why can she sense Dani's presence in one of the rooms at the office? Who is leaving mysterious letters in her apartment?
Alex begins to suspect that Dani has been kidnapped by a mysterious cult, but could that really be true? People around Alex start to question her mental health: is it all in her imagination? Suddenly, she finds herself in peril where all signs point to her becoming the cult's next target.
White Crypt is a thriller about invisible cults, powerlessness, and manipulation – and about a sibling love greater than everything else.
Reviews on Mariette Lindstein's previous books: 
Crimetime Specsaver's debutant Prize, the jury's reasoning:
"Over 500 pages are completely devoured. Both the jury and the many readers who voted were unanimous – the book is impossible to put down. The language is unpretentious. The feeling of a documentary novel makes it stick out on the overcrowded crime novel shelves. The author writes about a secluded world in a way that is extremely believable and fascinating. A suspense novel about what makes people go through hell and high water because of the desire to belong. This is the first in a new fiction trilogy – we really look forward to the continuation."
"Suspenseful as the most riveting thriller."
Lotta Olsson/DN
"A book that is timely, interesting and more and more suspenseful the further into the story you get.
DAST magazine
"A well written and very suspenseful debut novel. Mariette Lindstein can definitely write and hopefully the next parts of the trilogy will be as well written as this one."
BTJ (library service)
"Capturing, really suspenseful and strong!!!"
Jennie's booklist
"A riveting book that I recommend to everyone. The story unfolds at breakneck speed all through and is almost impossible to put down."
Bymarken's manuscripts and media.
"This is the best book I´ve read in a very long time. Mariette Lindstein delivers an incredible story."
Marion Nyström, writer of the book "Frostbitten".
"An incredibly suspenseful book that´s most definitely worth reading."
Library service, West Frölunda.
"One of this falls best reading-experiences. I would not leave out one single page of this book. Incredibly well written!"
Radio P4, West.
"Don´t miss this novel! It´s easy to read, you´re sucked into a whole new world. Frightening, some of the most terrifying stuff I´ve read, completely without any supernatural elements."
The Blog: The Boookshelf
"A thriller, filled with horror, that keeps you in a stranglehold until the whole book is finished."
Kim Kimselius, writer
"A nerve-wrecking story that really needs to be told. Mariette Lindstein has written an AWESOME book."
Joanna, the blog: The Book Circle
"This writer knows the stuff she´s writing about. An enthralling book that also gives insight into the "cult-phenomena".
Karin´s blog.