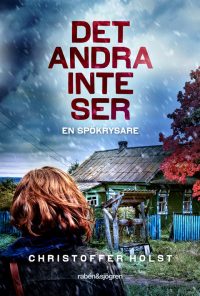 Rights sold
Sweden: Rabén&Sjögren
Tove has just quit high school. Together with her sister Vivi and their mother Marie, she moves away from Stockholm to a creaky old house in a small, quiet community near Siljan in Dalarna. With them is grandmother Tekla, who was in a serious accident and can no longer walk and barely speak. She is nothing like her old self.
In the village, they get to know the enthusiastic clerk at the local bakery, Edvin. In the meantime, Tove falls in love with Chang, the next door neighbor. But what seems to be a new start soon begins to be something altogether different. Outside it's dark and stormy and Marie can't help but feel she is being watched while in the kitchen recipe she is preparing for the newspaper where she works. Tove becomes a witness yet again for unexplainable events in the bathroom. Edvin mentions that the house carries a secret story that Tove begins investigating. It turns out that things are not as they seem.
What Others Cannot See is a nerve-wracking ghost tale about madness and dark secrets from the past. But it's also a warm tale about friendship, family and love.
192 pages
Reviews
"This well written stretch read promises a creepy story with relatable characters which makes it even more scary. Besides crazy events and dark secrets it is also a story about family, friendship and infatuation. It's the mix that makes the story so fantastic. Thank you for giving me a good scare." - I min bokhylla, book blog
Reviews on previous Young Adult novels by Holst
"He Waits for Darkness to Strike  is an incredibly scary horror story with skillfully proportioned number of events, classical horrific elements that afterwards makes you wonder - was it just a bogey or was there an actual sound? Until you're not wondering anymore but instead find yourself screaming at the top of your lungs."
DN - Lotta Olsson
"He Waits for Darkness to Strike ... Holst has managed to mix both horror and mystery with his humoros language where the result is a simply brilliant YA book. The book contains plenty of classic elements yet it feels fresh and unique"
– Selma Merdociv, Södermanlands Nyheter