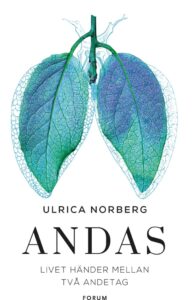 Rights sold
Hungary: Scolar
Sweden: Bazar (previously Forum)
Breathe - A revolutionary, new approach to health and wellbeing combining ancient yogic wisdom and cutting-edge neurological research. 
The breath: our most vital bodily function is so often overlooked and neglected. In our hectic modern lives, our breathing has become ragged, shallow and fast and has been linked to a host of ailments and deficiencies. Using findings from the latest, cutting-edge research on the brain to demonstrate how the chemical balance in the body is shaped by the breath, leading yogamaster Ulrica Norberg travels back in time to the ancient yogic precept of prana (Sanskrit for breathing), describing the four stages of the breath and how these impact the mind and body.
Tapping into medical research and the demands of the work-life balance, Norberg brings us a revolutionary and practical approach to using the breath as a tool to improving all aspects of our health. Breathe is a practical and highly-accessible book underpinned by scientific research and decades-long experience for anyone and everyone. Live your best life by discovering the transformative power of the breath on your wellbeing by one of Sweden's leading intersectional experts on yoga and meditation and neurological research.
275 pages
Reviews:
"Breathe is a very inspiring and a must read to guide us through many of our daily struggles." BTJ library service
"Learn how to breathe. Through breathing correctly one can take control of the overall health and well being. BREATHE is a practical handbook written by the Yogi Ulrica Norberg. She collects knowledge from medicinal research and shows how the chemical balance in the body is woven together by our breathing." - Expressen magazine
"The book provides both research and practical breathing techniques to calm the mind and strengthen the health." - Allers magazine