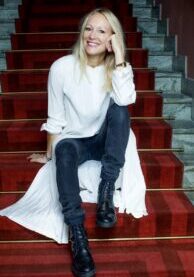 Rights sold
Denmark
Italy
Finland
Egypt
Estonia
Hungary
Japan
Norway
Netherlands
Poland
Serbia
Sweden
The Netherlands
Turkey
Vietnam
US
Ulrica Norberg is an inquirer and thinker and has throughout her life been creative and contemplative, always with the intention of findings ways to evolve in body, mind and spirit. She found meditation and yoga in her early teens when she was living and studying in the US and has led to her initiation to Yogiraj; Yogamaster, a high honor that just a handful of westerners have received before her.
This Sweden native, holds a Master´s degree from Stockholm University, is a trained journalist and dramatic writer and shares her teaching with work as a coach to groups and individuals, teaching creativity and innovative transformation workshops. She has written over a dozen books on health, yoga and personal growth.
Ulrica played an important role in yogas growth in Europe from the 90´s and on and she has trained hundreds of yoga teachers across the world. Today she is a key advocate for the increase of interest in the breath and its mechanics and function and Ulrica is invited regularly to Swedish National TV to speak of its importance for our wellbeing.
Her vast experience from life, academics and from having gone against and along the grid, shines through in her open appearance, deep knowledge, self-distance and warm approach.
Author's Instagram: 
Author's website:
Bibliography
2021 - Cat Power - The Healing Power of the Cat, non-fiction
2021 - Restorative Yoga (Återhämtning), non-fiction, new Swedish edition
2021 -Curious (Nyfiken), non-fiction
2020 - Nomad -  non-fiction
2018 - Breathe (Andas), non-fiction
Backlist:
2016 - Restorative Yoga (published by Skyhorse US)
2014 - Yoga for 15 minutes a day (Yoga en kvart om dagen)
2014 - Yin Yoga (published by Skyhorse US)
2007 - Hatha Yoga (published by Skyhorse US)
2003 - Meditation 
2001 - Power Yoga (published by Skyhorse US)
Author Photo: Caroline Andersson
Contact us for photo rights