Broken Legs and Broken Hearts – a Completely Impossible Christmas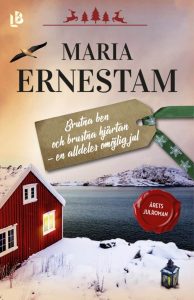 Rights sold
Denmark: Palatium Books
Germany: BTB
France: Gaia
Latvia: Latvijas Mediji
Sweden: LB Förlag
Broken Legs and Broken Hearts – a Completely Impossible Christmas, is a humorous, warm and slightly twisted story about the expectations we have of ourselves and others. It is a story about loneliness and friendship, white and black lies and unconventional tricks to get what you want. And it is about possibly finding love but above all yourself – even in Christmas times.
Things do not really work out for 38-year-old Lisbeth Cederström. She does of course like her little house by the sea, enjoys her work as a teacher and has settled down in Frillesås, a small village on the Swedish west coast where she moved five years ago. And she is single. Which might after all be better than being unhappily in love.
But when Christmas approaches, things turn out for the worse. The headmaster of her school wants her to leave her sports lessons in favour of a male alpine champion.
Her old boyfriend Harry suddenly stands on her doorstep and is tired of his glamorous girlfriend. Her sister Helena wants to give birth to her fourth child at home – much to the agony of her family – and her best friend Sara's daughter is having trouble with the police.
When her kitchen has to be demolished and get fixed by an unknown craftsman everything seems to go down the drain and on top of that, mum wants to serve the big Christmas meal at eleven o'clock in the morning.
Book 1 in the Completely Impossible series
Reviews
"A mulled wine scented story that attracts much laughter." - Amelia
"Maria Ernestam gets all the details right, her story both subtle and entertaining. About finally, in the middle of life, making your own decision on how to celebrate Christmas. Beautifully written on friendship, seasoned with little pieces of wisdom about life." - Kerstin Särneö, Tara Magazine
"…it is funny that we are invited into academic environments in a story where the obvious means of solving problems is by using lies." - Lotta Olsson, DN
"A well written, charming and hilarious story with both familiar and unbelievable situations. […] Ernestam has the ability to write everyday narratives focusing on human behavior and people who do not hesitate to admit that we do things all the time that we do not like only because it is expected of us or because we do not have the strength to take the fight." - Agneta Norrgård, literary critic
"This is just the type of novel you read in the darkness of the winter night when you want to feel good without any screens and noises...Maria Ernestam knows her work as an author" - Lena Köster, UNT
"A warm and wise story... Maria Ernestam writes nicely about loneliness, about how tricky being a human can be at times, but of course makes sure that the ending is a very, merry Christmas." - Feminina
"…loved this book. 5/5" (blogg Systrarna boktokiga)
"…a warm and entertaining story about a woman who lets people bully her but gets tired of always being the one to adapt. Lisbeth's adventures attract laughters but the story also makes you reflect on life on a deeper level." - Johannas Deckarhörna, book blog