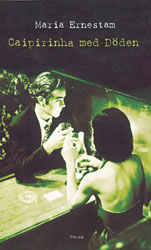 Rights sold
Germany: Random House/btb
Sweden: Forum, Månpocket, Bonnier Audio, eLib
Taiwan: Sun Color
Russia: Mirknigi, ASTREL
Erica, who is 37 and has her own company in the advertising industry, lives together with Tom in a lovely apartment on the south side of Stockholm. They have no children but are a well-to-do couple with good jobs and good incomes. They have reached the point in their lives when it is high time to finally build a family and have children. Prospects look good and Erica believes that she is as happy as can be expected until one night at a restaurant, Tom unexpectedly announces that he wants to take a timeout from their relationship.
For Erica, this comes as a shock. She goes home and drinks herself into a state of total inebriation, only to wake up late at night when the doorbell rings. Standing outside is Death. He has made a mistake and was really supposed to pick up her upstairs neighbor, but the night has been very trying and he has called at the wrong address. He doesn't mask his pleasure at meeting Erica instead, and in her desperation she doesn't allow herself to become frightened or surprised. Erica's flirt with Death soon leads to a relationship, they are both attracted to one another. Death is tired of his work, tired of dealing with souls and upset about genetic technology, which is changing the very essence of what he does.
Condemned by Tom to a life outside the social community, Erica develops an increasingly critical attitude to the world and, with Death as her ally, she greedily takes the chance to "clean up" around her. In the commotion that follows she loses control - something she had been very careful about throughout her entire life. She begins to make mistakes, which lead to dire consequences…
Caipirinha With Death is a murderously funny story, in the true sense of the phrase. A novel that touches upon a number of storytelling traditions. The tone is humorous and gently ironic, well balanced by fascinating psychological double-dealing. A contemporary novel with comments on the debate regarding genetic technology - a successful crossbred of tall-tale and relationship drama. Like a literary equivalent to the movie Falling down, the novel, through the element of suspense, self-irony and characterization, can be compared to works by authors such as Ingrid Noll and Fay Weldon.
382 Pages
English reading material available. Translation by Henning Koch.
Reviews
"In Sweden they already speak about an Ernestamian cross over style. Her books are psychological thrillers, exciting love stories, a mixture between depth and surface, joy and sorrow. And most of all, generously spiced with black humor."
www.schwedenkrimi, Tyskland
"With her books, Maria Ernestam clearly contributes to the success for the trademark 'schwedenkrimi',  with the intention to deliver more than just exciting entertainment."
www.schwedenkrimi, Tyskland
"Fascinating reading"
Marianne Fredriksson
"A story as ice-cold and unusual as its title, extremely fascinating and exciting. /…/ The language is so beautiful that it alone deserves a standing ovation. Read and enjoy!"
Veckorevyn
"In the midst of all the talk on how 'literature should challenge conventions', Maria Ernestam does just that, and with great success."
Expressen
"… morbid, black humor. I would like to see what the inside of this author's head looks like!"
SVT, Go'kväll
"It could have been black through and through, but the story about Erica and Death is at times so hilariously funny that I laugh out loud."
Västerviks-Tidningen
"Every time books about communication with the beyond emerge, the quality of these books is much diversified. But Cocktail with Death (Caipirinha med Döden) by Maria Ernestam can easily be compared with Bulgakov's Master and Margarita – the novel is really very very good …"
Knizhnoje Obozrenie, Russia
"Ernestam's book is a popular fiction, but of very high quality, you may not get deep thoughts about Divine and Devilish, about Death and Life, but you will get an easy and interesting reading with an unusual and very strong ending."
Weekend.ru, Russia
"Interesting plot, easy language, unexpected and original ending of this fantastic book will appeal to everybody who believes in the existance of an otherworld."  
Grazia, Russia