The Island of the Naked Women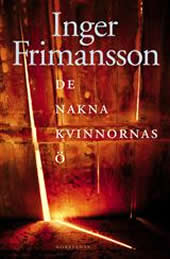 Rights sold
Finland: Like
Germany: Random House/Btb
Latvia: Daugava
Netherlands: Ambo Anthos
Norway: Damm
Poland: Buchmann
Sweden: Norstedts
USA: Pleasure Boat Studio/Caravel Books
Tobias Elmkvist, a successful author, returns against his will to his family farm in Östergötland. His father is confined to bed after an accident, and needs help running the farm. Tobias is tired and grumpy, has trouble getting past his writer's block, and his private life has descended into chaos. His relationship with his father is also pretty bad, filled with guilt and unspoken emotions. When he meets his father's much younger new wife, he is struck by a powerful emotion which he cannot control, and without any resistance on his part, he heads straight for catastrophe.
A top-class Frimansson psychological thriller.
329 pages
Full English translation by Laura Widerburg available.
Reviews
"It is well written and composed, and the characters are very intriguing, constructed in a manner that makes for strange dynamics and lots of tension. A good, suspenseful book with a tense atmosphere which I recommend."
Nordic Bookblog
"... a noir so frigid it will leave you shivering, albeit with delight.// In her haunting novels, the characters all want something they don't have – in some cases, merely peace of mind – and tragedy invariably results when they don't get it. Or, as in the case of Island of the Naked Women, they do manage to achieve some of their goals, then find out that they can't cope with the results. An extraordinary book by a truly extraordinary writer."
Mystery Scene
" I thoroughly enjoyed this book, which is a strong candidate for my "best of" list for this year. As well as the satisfying "on the surface" mystery, there is an allegorical aspect to the story, which gives it a haunting quality."
Euro Crime
"A gruesome, well-told story on the edge of unbearable stomach churning"
Månadsjournalen
"Mystery literature at its best."
Internationalen
"Let me tell you this right up front: If you only plan to read one novel in the criminal genre this year, you must read this one."
Gefle Dagblad
"Another success and definitely another must-read book by Frimansson – a Swedish woman at the top of the psychological thriller genre."
Kristianstadsbladet