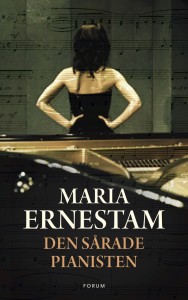 Rights sold
Bulgaria: Aviana
France: Gaia Editions
Sweden: Forum
Poland: Kobiece
Nominations
Prix des Lecteurs, Littératures Européennes Cognac, 2018
Marieke is the owner of a small book shop in the Old Town of Stockholm. She is also a successful writer of crime novels. Recently divorced, she worries about her son, doing his military service in the freezing north of Sweden. This dark and stormy November night, he has been sent out with his troop in a rescue operation.
Marieke is awake in her shop, and old memories come back to haunt her. The memories of her best friend Veronica. Faithful Marieke always stood in the shadow of charismatic Veronica ever since they were children. Now, this night, Marieke makes a trembling attempt to get in touch again. And she remembers the trip, ten years ago, that tore them apart.
It started when Veronica's aunt Klara died. Klara, having been a substitute mother for her niece, seemed a perfectly ordinary spinster. After her death, she transformed to a mystery. Who was she? And what did she do those five weeks she spent every year of her life on Malaysian island Langkawi and in San Francisco?
Marieke and Veronica travelled in her footsteps. They discovered her secrets. And when they met enigmatic, world famous piano player James, a rivalrous triangle was formed that led to disaster.
The Wounded Pianist is a novel about human relationships, friendship, the roles we play, secrets and dreams. About ghosts of the past, about the importance of music and about people seeking ways to be free to live their own lives.
Many comparisons to Elena Ferrante's novel The Best Friend are possible to make. Here we find the same topic, women's friendship and how it could be to always stand in the shadow of a more charismatic best friend.
358 pages
Released in May 2016
Two author's comments;
"What a novel you have written! If you were a pianist your playing had been described as strong, clear and steady"
Johan Theorin
"I read your novel and you keep your style. Splendid!"
Theodor Kallifatides
Reviews
"In book after book Maria Ernestam captivates what I suspect is hiding behind the fasades... That "Ernestamsque" imagination has its roots in reality but wings made of dreams"  LitteraturMagazinet
"A really fantastic novel about relationships, secrets and dreams - and the author describes all those subject so well. Childhood memories and the importance of music are also waved into the story and it makes it so versatile and memorable"  Ålandstidningen
"This novel affects me deeply and touches me. For real."
Femina, Maria Marteleur
"The best!
Can one win an Oscar, a BAFTA or a Grammy for the most beautifully written prose? If so, the award goes to Maria Ernestam. I fall flat to my knees in a pool of mud for her words, deliciously entwined throughout the tale of Veronica and Marieke, who have been friends since childhood. […] And how one loves Maria Ernestam's language! She delicately chisels out her story with careful hands and thus creates an endless pleasure for the reader."
Fönstret (Caroline Engvall, Number 1 2016)
"Beautiful on relationships, secrets, dreams never fulfilled and the different roles we play"
Kupé. Kerstin Sundmark
"Maria Ernestam is one of ELLE's Swedish favorite authors, and her skillfully constructed novels always carry interesting and twisted surprises."
ELLE
"Maria Ernestam is really good at twisting the complicated machinations that drills deep in the psyche. And it is smartly written too. In The Scarred Pianist she talks about the kind of relationship that often arouses envy; the childhood best friends who are still linked in adulthood, such as Veronica and Marieke. Oh well, so completely equal isn't the relationship with its strict division between the just, faithful Marieke and the exciting, charismatic Veronica. When Veronica's  aunt dies, it is never questioned that Marieke shouldn't follow on a long trip in the aunt's footsteps. They will get to know something about Aunt Clara, but above all, they will discover things about themselves."
ICA-Kuriren