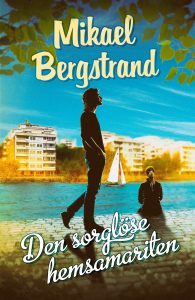 Rights sold
Sweden: Piratförlaget
It's Stockholm, early 80's. Olof Palme har regained his position as Sweden's Prime Minister, aids is still an unknown disease and in the line to Stockholm's most popular restaurant and nightclub - Café Opera flourishes dreams about success and happiness. This is were the young, beautiful and extremely narcissistic man from Skåne, south of Sweden, Matz Zern goes with one single goal in mind: to amaze everyone.
Although things turn out to be harder than he imagined. In order to make a living he starts working as a caretaker at the little island Reimersholme. The encounters that he has with the elders will change his entire view on life and on death as well. When he crosses paths with the literature student, Carina Carlsson, his life tumbles over. Is he ready to risk the chance of fame and success that has suddenly been presented to him?
The Carefree Caregiver is Mikael Bergstrand's first novel after the successful trilogy about India and the two best friends Göran and Yogi. It's a fun, fast paced and emotional story about two young people that takes place in an innocent and naive time in Sweden, when everything felt possible.
350 pages
Reviews
"I like Mikael Bergstrands cunning humor. His heartfelt teasing of incapable men and their short comings. He has a delicate touch for chipped individuals that are a bit torn down at the edges and that have a longing to belong or simply enjoy a home cooked meal with the sauce from the fried steak. The tone is similar to those about Göran in "Dehli's Most Beautiful Hands" . But here it is Matz Zern, with two Z, who is waiting for a breakthrough with his acting career and instead ends up working as a caretaker to support himself financially. It's early 80's and the things that mark the time are hilarious and real. I bounce between laughter and being deeply touched." 5/5  by Tara magazine
"The new novel "The Carefree Caregiver" is a very Mikael Bergstrand-colored story of a young man's way of finding himself and perhaps also love and the meaning of life. Sharpness, humor, charm and a unique fingertip feeling for life's misleading roads and guiding stars.
I was myself a caretaker of elderly and disabled when I was young in the late 70's, and the early 80's and remember everything crystal clear from this time, the persons I meet made an everlasting impression. They were really old and had a clear sight of life, so valuable for a young and unexperienced person. This experience is also shared so well in Mikael Bergstrand's novel. "
- The agent Maria Enberg