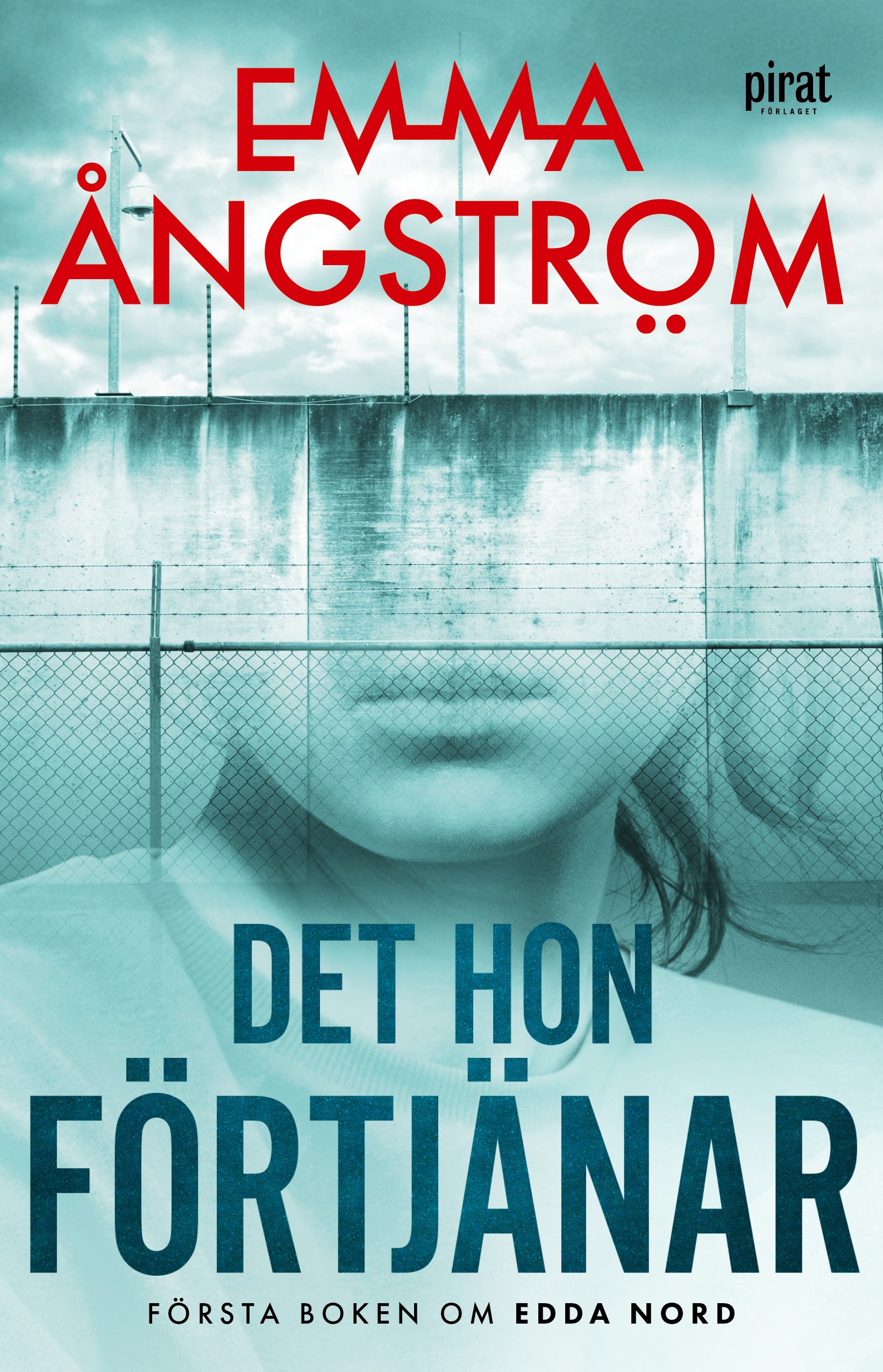 Rights sold
Poland - Arkady
Sweden - Piratförlaget
Against all reason, Fanny is drawn into a passionate relationship with a convicted murderer. Fanny thinks that all people have the right to a second chance and she can't stop thinking about Johan. Someone who writes such warm and loving letters cannot possibly have committed a serious crime. He just doesn't seem capable of doing such a thing. But the love story quickly turns into a nightmare.
Edda Nord works as a communicator at a women's refuge. Through her work, she gets to meet women who live in a completely different reality.
With What She Deserves, Emma Ångström begins a series of suspense novels about the dark sides of human relationships. About how the safest relationship can turn into a destructive one, about how the most mundane thing can become the most dangerous thing you've ever encountered.
Part 1 in the Edda Nord series
366  pages
Reviews:
"A well-written book that initiates and readably drills into relationships in decay" - Kapprakt, book blog
"A creepy and dark suspense novel that I read straight through" - Sofie Sarenbrant, Author
"Strong and impactful book about violence in intimate relationships 4 out of 5" Femina Magazine
"I pretty much read this book cover to cover without putting it down. The women and their destinies touch me, I know that these women exist and also all those who fight to help them, but there are far from many who can and dare to ask for help. The book is easy to read, even though it is a heavy subject, and that is beneficial - then it reaches out even more! This is the first part in an upcoming series, I'm really looking forward to the next book!" -@lotta_boktok
"Wow, what a page turner! Impossible to put down, so it became a long read. A very exciting plot about the young Fanny, who falls passionately in love with Johan when she sees a TV program about a play in a high-risk institution. He is in prison for murder but she refuses to believe he could have committed such a crime and begins to correspond with him. This has devastating consequences. At the same time, we get to follow Edda Nord in her work as a communicator at the women's shelter, where every day she meets women who are on the run from dangerous and violent men. Their paths cross and soon life has turned into a nightmare for them. It is a rough read about what manipulation and destructive relationships can lead to. I'm already looking forward to reading a continuation of this series with Edda and her work at the women's shelter. 5 out of 5 " - @helenasdeckartips
" What she deserves is a story that is well grounded in reality, the moments of tension are combined with sink realism and descriptions of a very normal existence as a parent of small children. But that's exactly what's so nasty. Emma Ångström captures the feeling that violence in intimate relationships can affect anyone. The book is captivating and stands out in the crowd of detective stories, and basing the book on events connected to a women's shelter is a bit like having an ace up your sleeve. Ångström is doing well and has found a winning concept, with human relationships in focus, which will last for several suspense novels with great social involvement and important underlying messages."– @Johannas Deckarhörna
"Interesting, exciting and touching reading. Unfortunately, this is a constantly hot topic and many out there are struggling. The author skillfully leaves some details that make me think and immediately want to read the sequel!"- @blad.efter.blad
" All described with tension and how easy it can be to be blindsided by a manipulative man. The book is a page-turner and the first part about the Edda. Looking forward to reading the next part"-@annasboktips
"About the dark in human relationships. Well written, exciting and realistic."- @en.bra.bok
"An incredibly exciting book, but which also carries much more than just pastime and excitement. As a reader, I get  feelings of both anger, despair and sadness. Many times I want to shout at Fanny to get her senses under control - but it's not that simple. A book that can really be considered a contribution to the social debate. And an extra thought as to how it is possible for convicted men to receive loads of letters from women even though they know what horrible things the men have done. What is it that attracts? And how should we help all the women and children who are forced to live with violent partners or who risk being murdered when they leave the relationship. A book that arouses thoughts and discomfort and that remains in my thoughts after reading." - @Carolines_bokliv
Readers responses: 
"Important story about the mechanisms that lead women to contact dangerous men"
"What an exciting book, incredibly creepy"
"Captivating, terrifying & very very good!"
"SO incredibly extremely exciting (and thought-provoking) from start to finish!