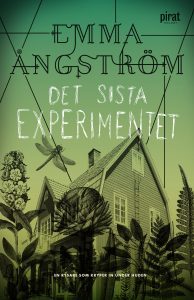 Rights sold
Sweden - Pirat
Locked in a dark, cold room a woman wakes up. She doesn't know where she is. She has no memories of how she got there. The room is like a big coffin and it gives her the feeling of being buried alive. It feels as if she walks around far below the ground. A sudden noise, a crack of something that looks like daylight gives her hope. There is someone who seems to have plans for her, and step by step a terrible truth is revealed.
Summer 1995 is the hottest summer in decades and fourteen-year-old Dante is going to spend his summer holiday in the picturesque village of Sundborn. A summer with his eccentric grandfather and Signe, a lady with a penchant for the occult. and finally – most important of all - Dante's charismatic childhood friend Freja. But the idyllic summer soon shatters and a new world opens when Freja draws Dante into a whirlwind of black magic and strange forces.
The Last Experiment is a thriller with family secrets, creative dreams, death and obsession. It is Emma Ångström's third novel and her second in the psychological thriller genre.
300 pages
Reviews:
"Emma Ångström is very skilled at building up the suspense in her story and slowly cradle me into something that feels safe and nice. And shortly thereafter pat me on the shoulder and whisper "no way you're getting away that easily".  I had in no way been able to guess the ending of the story. Nerve wracking and horrifying." Ylva kort och gott, bokblogg 4,5/5
"She has her own way of writing. Slow and crawling. It's well written but easily accessible. The mood is both evil and sinister. Half suspense, half horror... for those who just as me also enjoys to be frightened." Mariette Lindstein, Author
"Elegantly the action rolls on, and the thing that makes THE LAST EXPERIMENT a top level horror novel is Emma Ångström's naked, melodical language. Lines like "I want you to kill me" creaps towards the reader, like a whispering down the spine."
M Magasin
"This is Emma Ångströms second horror novel. Just as the first one, The Man In The Wall, she skillfully builds up the tension and suspense with an eye for details and a pealed off yet detailed language."  Ragna Fahlander, Dalarnas Tidningar
"Swedish psychological horror thriller... The book contains a naturalistic poetic description of vegetation, weather, old houses and darkness that simmer through the idyllic landscape." Pia Lindestrand, BTJ