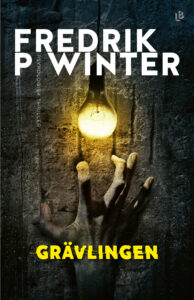 Rights sold
Czech Republic: Dobrovsky
Germany: HarperCollins
Greece: Kaktos
Korea: Munhakdongne
Netherlands: AW Bruna
Russia: MIF Publisher
Poland: Arkady
Sweden: LB Förlag
Every year on the night of November 6th, a serial killer called the Badger breaks into the basement floor of his chosen victim's house. The victim is dragged into the ground and vanishes without a trace. 
One morning publisher Annika Granlund finds a manuscript covered in dirt outside her office door. The title of the script is I'm the Badger and it is a morbid biography about a serial killer living underground. Annika sees an opportunity to save her publishing house, which is facing bankruptcy unless they're able to find a big bestseller soon. They decide to publish it even though they know it will be controversial. Her questionable decision leads her into a deep hole of darkness, something she thought she had buried as a kid. 
Who is the Badger? Who wrote the book? And what lurks beneath the ground? 
The Badger is a psychological thriller with supernatural elements. About the human psyche that is so fragile when put under pressure. 
364 pages
International Reviews: 
"Fredrik P Winter has arrived to change the scene of suspense literature in Greece completely. He appeals to the readers that like horror in this horrifying suspense. Count your breaths as you prepare for the ending." - @evas_sweet_books_with_coffee instagram Greece
Reviews Sweden: 
"Fredrik P Winter has written a debut with a slowly creeping horror feeling. It begins as a crime novel with a Scandi-noir touch, but after a while the creeping horror elements becomes even more apparent and the book is hard to put down." -Glenn Petersen, Recommended Fantasy – at the Sci-fi Bookshop
"The suspense rises when the plot moves closer to the date of November the 6th. Will a new deed occur? The author elegantly pilots the reader towards the inevitable ending. Fredrik P Winter is one of the skillful debutants I'd be happy to read more from." - Nils Scherman, Swedish Crime Academy
"This book is a mix between crime novel and psychological thriller and with a hint of horror. And that mix makes it into an intense, nerve-wracking read that is impossible to put down... it's like a meta story with how the story is about a murderer and then it is also about a book that has just been published about that murderer. And it treats life at a publishing house and the life of an author as well - I especially liked that part... the language is really good and it sets a tone for the whole story that draws you in." - Håkans hylla, book blog
"365 pages of pure joy. The best book I've read. Like a mix between Twin Peaks and The Shining. I hope they make this into a movie!" – Familjekedjan, book blog
"The Badger is Fredrik P Winter's debut and they promised a psychological thriller that definitely delivers suspense! The mystique and discomfort are covering the whole story like a heavy and dirty blanket and I am stuck immediately and stay there until the end. Claustrophobic is just the beginning. I like how the author mixes in the police investigation without making it into a police crime novel. The author flirts with both horror and internationally acclaimed thrillers on serial killers. And he definitely shows a great strength in storytelling." - Johannas Deckarhörna, book blog
"Exciting from page 1. Couldn't put it down. World class!" – Marcus Olausson, author
"An extremely well written book to get stuck in. I read the end while completely missing the fact that the fire alarm went off in the empty store where I was working in. After reading you will never want to move to a house with a basement." – I min bokhylla, book blog
"I'm so thankful to not have a basement in my house. When I first saw that the book was going to contain supernatural elements I was a bit scared that they would go overboard but that really didn't occur. Instead the book is creepy, it crawls under your skin and gives you chills. You don't know whether you dare to keep reading or if its best to put the book down." – bokraden, book blog
"Psychological horror that won't leave anyone unaffected. 5 out of 5." - Bettan bokprataren, book blog
"Wow – page turner is the word! The suspense builds up and for every chapter the creepiness increases. It really got under my skin. Insanely good!" – Bokhyllaniskuggan, book blog
"Fascinating, suspenseful & strong!" – Jennies boklista, book blog
"This book literally crawls beneath the skin and sticks in your mind long after finishing reading it. 5 out of 5!" - bok_ann, book blog
"This book had me hooked from the start and was captivating throughout the whole ride! Chilling and worth a read." – bokslott, book blog