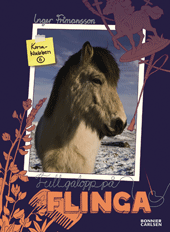 Rights sold
Sweden: Bonnier Carlsen
One day when Frossan comes home after school her mom is calling her from the kitchen. And pappa is there waiting as well, looking all secretive. At first Frossan becomes curious, but also nervous: what are they going to talk about? With her? They are not getting divorced, are they?
But the news aren't frightening at all. Only really exciting! Frossan's and Bojan's moms are planning a trip to Iceland. And Frossan, Bojan and Fiona get to go with them. They are visiting an Icelandic horse breeder and they will get to go riding over the Icelandic fields.
Frossan is all nervous about the trip. But for Fiona the trip is also shadowed by worries: it costs quite a bit, and it isn't sure her family can afford it. This is when the friends in the WENA-club come up with a really smart idea!
In the sixth book Frossan throws herself out in an adventure and falls in love with the Icelandic horse Flake. And maybe in someone else as well…
250 pages
Reviews
"Just perfect, in new horse book."
Svenska dagbladet.
"Immediate horse joy."
Uppsala nya tidning.
Author photo by Leif Hansen
Contact us for photo rights