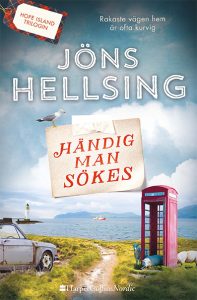 Rights sold
Denmark: HarperCollins Nordic
Finland: HarperCollins Nordic
Norway: HarperCollins Nordic
Sweden: HarperCollins Nordic
John is a confused dreamer, a 26-year-old from London. He saves himself from a stalemate by answering a newspaper ad for a handyman. Soon, he finds himself at Hope Island to renovate a cottage for the wealthy landlord and his young wife, the Swedish beauty Anna.
Heather runs the island's pub and is marrying the wrong guy when John comes to the island. John is drawn into a love affair with Anna, who decides not to sit bored on the estate while the Lord travels to London every month. She plans a lot of games that she hopes John will attend and persuade him to take part in five different sexual fantasies. But they will not reach the fifth, before something horrible happens and John finds himself accused of murder.
THE HOPE ISLAND SERIES  is a romantic tale of freedom and of Scottish islanders' fight against the powers that be. A drama that came to Jöns Hellsing as he contemplated his own family history on inherited land in the Hebrides. The windswept environment makes a perfect setting for an adult saga of desire, insurmountable obstacles and fiery characters who triumph in the end.
The framework for the series is the Scottish Island and the oppressed islanders who rise up against the central power personified by a corrupt English lord. The main characters are John and Heather.
418 pages
Reviews:
"Charming, entertaining and captivating" 4/5
Jennies boklista, book blog
"Handyman Wanted is a real feel good pearl"
Akademibokhandeln, Umeå
"What a debut! I was quickly captivated and had a hard time putting down the book"
Johannas bokblogg
"The novel is entertaining and contains several unexpected twists and turns. I thin this trilogy will be popular."
Breakfast bookclub
"It's unpredictable in its own predicable way, it's entertaining and funny and I am charmed by this story... I look forward to reading the upcoming parts of the trilogy and to explore the landscape and citizens even more"
Lotta - Kulturkollo, book blog
Reader's comments:
"If this is Jöns Hellsing's debut novel, I don't even dare to think about how good the two upcoming books in this series will be"
@netduvan
"I Love this book! Jack pot."
@ewalottanadenfeldt_
"If you enjoy reading about relationships, love and sex - this is the book for you... I got swept away and wanted to know how it would end. A great summer read"
Michaela S.