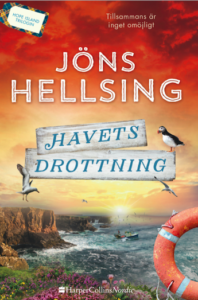 Rights sold
Denmark: HarperCollins Nordic
Finland: HarperCollins Nordic
Norway: HarperCollins Nordic
Sweden: HarperCollins Nordic
Lord Winsley is under a lot of pressure for refusing to let go of the Scottish island that has been with his family for generations. But when asked to collaborate on a top-secret mission with the Ministry of Defence, he is offered a large sum of money – something he can't say no to. In a separate part of the bay on Dóchas, they're planning to build a military harbor for nuclear submarines.
The islanders are happy for the opportunity that comes with the new jobs and money flooding in – until they learn what it is actually for. Pub owner and chef-to-be Heather Mac Donald doesn't want to serve radioactive lobster to her guests, so she incites the islanders to rebel. A rebellion that will take London and Lord Winsley by storm.
THE HOPE ISLAND SERIES  is a romantic tale of freedom and of Scottish islanders' fight against the powers that be. A drama that came to Jöns Hellsing as he contemplated his own family history on inherited land in the Hebrides. The windswept environment makes a perfect setting for an adult saga of desire, insurmountable obstacles and fiery characters who triumph in the end.
The framework for the Series is the Scottish Island and the oppressed islanders who rise up against the central power personified by a corrupt English lord. The main characters are John and Heather.
350 pages
Reviews: 
"This book series take place during the 1980's. Which I believe is an interesting grasp considering where Great Britain was found at the time. But the central of the story, the Scottish fight for self-sufficiency and independence, is just as current as of today. Hellsing has really managed to capture that feeling well, just as the love to the nature and the island that absorbs the residents on the Dóchas. I can recommend the whole trilogy wholeheartedly! Jöns Hellsing has found his own niche, with the spirit of time and environment, managed it well and distilled it to an interesting and warm story that can appeal to both men and women. Thank you for three nice books!" – Boksann, book blog
"I really enjoyed this book! Jöns Hellsing knows the art of capturing his readers with his stories. QUEEN OF THE WAVES is the final part of the Hope Island-trilogy. It's a story about love, struggle for liberty, to dare believing in something you really do believe in. Jöns Hellsing captures the environment greatly by his descriptions and the love the islanders have for their island .The book is set in the 1980's Great Britain. The Central story is the Scottish fight for independence and self-sufficiency. A struggle the author narrates well.
I have enjoyed all of the three books in this trilogy. They are well written, hard to stop reading and you just want to continue on. I wholeheartedly recommend this trilogy! Rating 5/5" - Lollos bokhörna, book blog
"The protagonist Heather MacDonald is a real warrior who is not afraid of anything when defending the islanders' interests against the English powers. The character gallery is full of wonderful, odd personas that you instantly like. QUEEN OF THE WAVES is a charming good read that for me became just the right book in the right time. I like the whole trilogy, but this last part is the absolute best. It immediately ended up in this year's favourites and also became the best book in March." - Boklysten, book blog
"QUEEN OF THE WAVES is a nice escape from reality and a perfect novel to enjoy during these troubled times. It is very British - sorry, Scottish! - and charming. I'm glad I got the opportunity to read it!" - Fru E:s böcker, book blog
"The environmental depictions of the Scottish countryside are credible, and the human depictions are entertaining ... Jöns Hellsing's language is easy to read and driven ... QUEEN OF THE WAVES is an entertaining, well-written and exciting book. " – Library services, Rickard Lindholm
Reader reviews:
"Such a great trilogy with many exciting intrigues and events. I like the historic twist." – Madeleine Mac Donald
"Fantastic trilogy – hard to let go of!" – Anne Lill K
"I've been longing for this final part of the trilogy. Enjoyed a captivating story – thank you to the author! 5 out 5"
"Everything you could want from a lovely book series! 5 out of 5" – Maggan Å
"I really enjoyed part 1 & 2 and was longing for the third part. Very well tied together – the circle is complete. 5 out of 5"
"Such a nice and worked through storytelling. From book one to the third A story you've never heard before. Recommended! 5 out of 5" – Charlotta Paulson