Within the Walls (Innanför murarna)
Maria Ernestam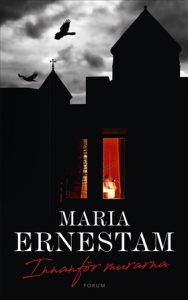 Rights sold
Sweden: Forum
Germany: Btb
A beautiful and horrifically gripping ghost tale
In the French countryside of Normandy among fields and apple trees lies an ancient mythical monastery whose library attracts researchers from all over the world. Thanks to a scholarship, journalist Sofi Edström has had the chance to go there to write and try to find peace. Behind her she leaves Sweden and a marital crisis with tragical consequences. She has not seen her husband for five years.
But she does not find the calm she is looking for. The monastery holds a dark story and Sofi is soon tormented by visions and dreams of what happened there during World War ll, when a group of Canadian soldiers were brutally killed inside the abbey walls during the allied invasion 1944. The fate of the soldiers, especially the one of a young farmer boy, is twisted around her own history until she no longer knows what is real. Who can she trust? Who is haunting her with whispers and knocks, and why? Is she going mad or does somebody want to hurt her?
Sofi is forced to face the things she fears the most and the walls of the monastery are not the only ones that need to be torn down to save her.
Reviews: 
"Within the Walls" is a gripping thriller about the consequences of lies and betrayal. It's about escape, grief and atonement, about the story that never lets go, the world's or our own. It's a story about the walls we put up to protect ourselves from others and ourselves.
"The reader easily identifies with her situation and engages deeply in this very well written life portrayal. (...) gripping novel about afflicting betrayal, great sorrow and trying to escape reality." BTJ, no 21, 2018
"…a fabulous journey into a person's innermost. 5/5"
Tofflan - the never-ending story, book blog
"Very well written and engaging psychological drama with elements of thriller … an almost poetical language, certain passages making me associate to Polanski and an absolutely fabulous reading of Maria Ernestam …" - BlommigaBarbro, Book blog
266 Pages
Reviews on previous books by Maria Ernestam
"With a bittersweet style Maria Ernestam describes how, throughout all ages, the only thing that will help us survive a loss is the reconciliation with ourselves.  And through a series of anecdotes, drawn with a pencil, just as black and white photographs capture in the blink of an eye, she delivers an shooting star of eternal hope."
Page des libraires, France
"A striking story, from the beginning om the century to the millenials, treating origin and family"
Paris-Normandie, France
" A passionate and striking novel. A fantastic story from page one. An absolute favorite!"
Librairie Le goût des mots (Montagne-aux-Perche), France
Maria Ernestam uses a nuanced language with which she shapes the characters in her story, reads their experiences and feelings. She creates time prints form 1916, by adding details and sometimes using a language resembling the one from early 20th century. With a gentle hand Maria Ernestam also weaves pacifistic and feministic ideas into the text, without forcing them onto the reader."
Svenska Dagbladet
"Ernestam writes with intelligence and with a large dose of humor about the difficult issues of life. The language is beautiful and the characters are very well carved out. The style is recognized from Ernestams earlier books and it is a true pleasure to follow Inga in her search for the truth about her family destiny."
Bibliotekstjänst
"Maria Ernestam has a brilliant black, absurd humor in her books."
Mama
"Maria Ernestam's books, especiallay Caipirinha With Death and Buster's Ears, are usually like a twisted maze for your brain – a trip up and down, back and forth. Her new book Always With You has none of that. It is rather a middle speed road which every now and then goes off into an old forest. The rich Ernestamian language is the same, but now one of Sweden's most skilled authors tell a very well researched family history. In a nice tempo and very graceful."
tove