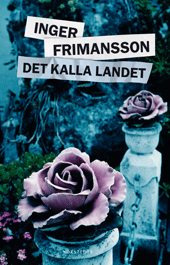 Rights sold
Germany: btb/Random House
Norway: Piratforlaget
Sweden: Norstedts
How much evil and cruelty can a human being stand? Can you trust that the perpetrator will get a fair punishment and not be released on parole? Questions about guilt and reconciliation are central in Inger Frimansson's new psychological thriller The Cold Country.
Maria Strandberg is having a hard time dealing with the events that happened to her sister, Ingrid who was kidnapped and locked into a basement under the floor at a crazy woman named Rose. The thoughts of revenge and retaliation as so strong, they even scare her. She, who is normally a peaceful homemaker and has just become a grandmother.
By coincidence Maria hears of the voodoo queen Marie Laveau who used to live in New Orleans one hundred years ago. She starts to sense a relationship with this magical woman, and she decides to take Ingrid on a trip to the US.
Ingrid is quite weak after her time in captivity in the dark cellar under Rose's house. She is jaded and weak-willed, and in deep grief after Titus' death. It is not hard to convince her to come along on the trip. Maria is more and more obsessed by the thought of revenge and punishment. And if she cannot get to Rose, who is now in an institution (prison or hospital), there is always Rose's son Tomas …
In The Cold Country we meet a number of characters from Inger Frimansson's previous books, in which they have often played supporting roles. Here they reappear as main characters.
Inger Frimansson has made the psychological thriller her genre, awarded a number of times for her books. In The Cold Country she once again shows that she is among the very best in Sweden
357 pages
Reviews
"With Frimansson the thriller deepens."
Västerbottens Folkblad
"When Inger Frimansson writes it's not just another spectacular description of evilness, instead it's about what hate does to an ordinary person. Low key and well written, skillfully depiction of the characters."
Dagens Nyheter
"Guilt, sorrow and anger unite all the characters in the story, but at the same time they can't converge. In an unusually leisurely way, Frimansson still creates a very thrilling story, and it is with great fear and expectations I continue reading. Inger Frimansson has a God sent skill to create trustworthy dialogues. I don't think I ever read a novel by her and been disappointed. She has, one might say, in an excellent but low-key manner created and deepened the psychological thriller."
Västerbottens folkblad
"The characters in the novel get different sections with different chapters. A concept, almost always successful, to get the reader to long for the next section and the stretch read is a fact. The way Inger Frimansson portrays both Maria and Tomas and the other characters with both nice and some less nice thoughts and actions makes them trustworthy."
Nerikes Allehanda