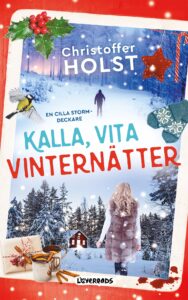 Rights sold
Denmark: Flamingo
Estonia: Krimiraamat
Finland: WSOY
Germany: Heyne
The Netherlands: Stortebeeker
Norway: Cappelen Damm
Sweden: Lovereads
Nominations and Awards 
Shortlisted at the Danish Mofibo Awards 2022 for Best Translated Fiction
December has arrived and with it the snow has turned into grey slush covering the pavements in the city of Stockholm. Crime reporter Cilla Storm likes her job but is suffering from writers' block. When her friends Zacke and Jonathan invite her to their newly purchased sports cabin in the idyllic scenery in the alps of Idre she sees her opportunity to escape the city and get into the Christmas spirit. Things get even better when her friend Rosie decides to join them.
On their first day there, tragically a young man is found dead at the popular mountain resort. Cilla and Rosie can't resist digging into the case and soon the traces lead them to the luxury house up on the hill where a wealthy but mysterious family resides…
COLD WHITE WINTER NIGHTS is the third part in the beloved Cilla Storm Series. Cosy crime at its very best.
275  pages
Reviews: 
"The cozy crime master Holst brings us to the Swedish alps... Christoffer Holst manages to create a very cozy setting even with the sad parts of the story - it's thrilling and creates hope and dreams for a white Christmas." - Tara Magazine
"A cozy and suspenseful page turner that offers twist and turns, a wonderful winter environment and Christmas holiday spirit. 5 out 5" . - Bokmysan, book blog