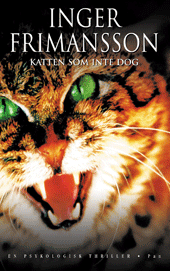 Rights sold
Denmark: Fremad
Finland: Like
Germany: Random House/Btb
The Netherlands: Ambo Anthos
Norway: Damm
Spain: Ediciones B (World Spanish)
Sweden: Norstedt
USA: Pleasure Boat Studio/Caravel Books
Beth and Ulf, a middle-aged couple, have troubles with their marriage. As they drive to their summer cabin, they hear on the radio that two dangerous criminals have escaped from jail. That evening, after they've had a great deal to drink, they notice that someone is lurking in their outhouse. Beth is struck out of her mind by panic and rushes toward the man, while grabbing an ax hanging from the wall. When the man raises his hands, she madly goes at him with the ax…After a sleepless night, they decide to go to the police, but as they're driving to the station, they see a newspaper headline declaring that the inmates have been caught. Completely panicked, Beth convinces Ulf to hide the corpse by burying it behind the outhouse, and with this decision, the two of them are drawn deeper into lies and tale-spinning which threaten their entire existence.
The novel was a summer series in Dagens Nyheter, the major Stockholm morning daily paper.
362 pages
Full English translation by Laura Widerburg available
Reviews
"After absorbing this psychological descent into madness you may want to rethink how private that summer cottage is. You may even hide your ax. The book offers what a good thriller should—unyielding tension. But this time, our villain is also our victim."
Fore Word Review
"The Nordic countries have a reputation for chilly noirs, and prize-winning Frimansson upholds that reputation with a vengeance here."
Mystery scene, USA
"She's a master at describing the indescribable nausea of the horrible with both sharp psychological insight and flawless observation, whether she's writing poetry or thrillers."
Gefle Dagblad
"A gruesome tale by one of Sweden's best female mystery writers. Few can built up such a dark, desperate, intensive atmosphere, with the pleasant Swedish country landscape as a backdrop."
Sydöstran
"Terrific skill."
Dagbladet
"Yet again, Inger Frimansson shows her ability to describe the human psyche's wandering ways, while also giving the reader a concentrated criminal mystery."
Smålandsposten
"Using tiny, fine strokes, she paints an extremely gruesome picture which is much more frightening than the excesses of blood and violence in many other contemporary mysteries."
Borås Tidning
"The highest quality psychological thriller. Inger Frimansson is unique among her Swedish colleagues. Even international writers have few to compare with her."
Tidningen Ångermanland