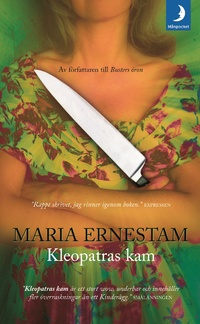 Rights sold 
Denmark: People's Press
France: Gaia
Netherlands: De Geus
Norway: Perleblekk
Germany: Random House/btb
Russia: ASTREL
Sweden: Forum, Månpocket, Bonnier Audio
Taiwan: Sun Color
Cleopatra's Comb is the name of a company that bases its activities on 'solving people's problems'. It is founded by Mari, Anna and Fredrik, who have been friends for a long time and each of whom has reached a critical point in their lives. Mari is trying to forget an unhappy love affair on Ireland, Anna has grown tired of her restless life and her innumerable lovers while Fredrik struggles with demons from his childhood and searches for his identity in elegant nightclubs. Their small company is overwhelmed with success, and with their varied backgrounds, they discover they have a lot to offer their customers – they can provide help with everything from interior decoration to working in the garden and bookkeeping. Everything goes well until an older woman shows up at the office with a strange request. She wants Cleopatra's Comb to murder her husband...
342 pages
English reading material available. Translation by Henning Koch.
Reviews
"There is something about the mixture of darkness and humor that makes Ernestam's books so irresistible. And Cleopatras Comb has all those ingredients, which makes me devour her books."
Camilla Läckberg
"This novel mixes comedy and drama in a charming way and is enriched by the character's personalities that are unlike any other... this is a very convincing variation to the floating theme on the boundaries between good and evil... "
Madame Figaro, France
"This is a fantastic novel that humourosly balances between fiction and the world of crime stories. Allow yourself to be swept away on a staggering adventure with these three amazing characters and their diabolic clients! "
Le Nouvelliste, France
"Thriller with orginell twist."
siste.no
"A fantastic book."/…/At the same time - well written and enourmously suspensful  - one gets touched to tears."
Bibliotekstjänst
"Cleopatra's Comb is a great WOW! Wonderful and filled with more delightful surprises than a Kinderegg. Ernestam's language is beautiful and her fantasy is incredible. When you believe you got it all Ernestam makes a manovre and overturns everything."
Smålänningen
"Promtly written, I run through the pages."
GT
"She did it again!"
Tove
"Cleoptra's Comb has the same high reading quality as her earlier works. If not even better. Ernestam's writing is a fresh, healthy breeze in the Swedish dense crime mystery- and chic lit-djungle."
Nerikes Allehanda