Broken Eggs and Broken Hearts – a Completely Impossible Easter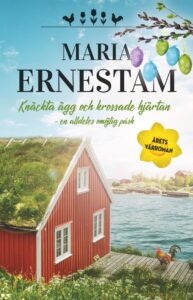 Rights sold
Denmark: Palatium
Sweden: LB Förlag
Latvia: Latvijas Mediji
Broken Eggs and Broken Hearts – a Completely Impossible Easter  is a humorous, charming and subtle story about human relations, deceit and never giving up. It is a tale about life being overthrown from one day to the next and the necessity of shaping your own destiny using any method needed. It describes tricks and mischief, laughter and tears, loneliness and the bumpy road to understanding who your true friends are and who loves you – for real.
Last Christmas the future looked bright for Lisbeth Cederström in Frillesås, a small village on the Swedish west coast. She was happy as a teacher and in her little house by the sea and enjoyed a new love in her life. And she had kept her promise never to allow herself to be controlled by others.
But happiness can be a hard thing to maintain. When Easter approaches, a new couple moves into the house next door. Soon the quarrels begin regarding plot boundaries, visits and a rooster crowing at night while the neighbors present a far different reality on social media. At school, malicious rumors begin to circulate about Lisbeth receiving money she has no right to from an old partner's company, and that she is unsuited as a substitute headmistress. On top of that, her boyfriend's loyalty fails, due to a demanding ex-wife, which makes the crisis complete. What happens then, when an unrequited love appears with good advice, support and possibly a desire for more?
Book 2 in the Completely Impossible series
Reviews 
"Do not miss this extremely well written pearl of a book. An engaging and utterly adorable every day story with an interesting narrative line, containing shadows and sparkles of humour as well as wisdom and empathy. I am completely captivated by her language, the plot and the characters." -Agneta Norrgård, Swedish Radio P4, Augustprize ambassador, Swedish Television, Channel 1, etc
"Maria Ernestam has done it again, skilfully balancing on the delicate line of feelgood/relationship novel. Like sitting with an old friend at the kitchen table, listening to entertaining gossip …!" - Swedish Television, Channel 4
"Just like in a well-assorted Easter egg, moods and intrigues come in all shapes and tastes. A mixture sparkling in the glowing light of sunshine in spring." - Litteraturmagazinet
"Ernestam's prose is subtle and smooth. She is a skilled writer and knows her craft well. Her characters are authentic," - btj, library service, no 7 2021
"Wow, I truly adored this wonderful book. An easy read, very well written, making me laugh out loud several times although it also deals with themes such as bullying and loneliness in a truly fine way. Very much a page turner, something happening on every page. I loved all the jokes and did not want it to end and I would love to read more about the gang in Frillesås. Warmly recommended, top note 5/5." - helensboktips
"Extremely fun and enjoyable reading. Just like in her last novel in the series, 'Broken Legs and Broken Hearts – a Completely Impossible Christmas', the text is permeated by a subtle humour of the kind I simply adore. I had immense fun, even when the book dealt with darker themes. I am not alone in also genuinely liking the first 'completely impossible' book, since it has sold very well not only in Sweden but also in countries such as Germany and France." - Breakfast Book Club, book blog
"Maria Ernestam is one of my favourite authors. I have read almost all of her novels. And besides creating unique stories, her authorship is characterized by being utterly multifaceted. Her books are independent reads, unique in different ways, all of them extremely good." - enfiktivresa
"Maria Ernestam has a way of writing that makes you think she has gotten hold of diaries from a number of people. She puts chosen pages into a big bowl and stirs the different stories into a wonderful plot, both captivating and well written. A wonderful spring novel that will cheer you up during dull Easter days."
- boktanten
"Maria Ernestam delivers a captivating plot. It is amazing how the author manages to turn every page as well as person into something interesting. Language, dialogues and descriptions are handled delicately with care and empathy and the author skilfully conveys warmth as well as moments of recognition."
-  boktokig
"How wonderful to hang around with Lisbeth in Frillesås again. This book is an extremely cosy read."
- boken_och_jag
"… Maria Ernestam's warm, eventful and lovely Easter novel. An engaging tale, stirring your emotions. A perfect novel to keep you company in Easter times." -kaisajo
"Her book is full of twisted and funny situations as well as colourful characters."- bok.malen
"Just like the first book in the series, this one is highly charming with a wonderful plot. The language is extremely pleasant with very accomplished descriptions of persons as well as environments. A feelgood for enjoyment and laughter."-  bettan_bokprataren
"A wonderful and lovely book filled with so many feelings. Sometimes I had to stop when I felt a bit sorry for Lisbeth. A colourful story, permeated with warmth." - npboktips
"A fun and very legible read with depth. Filled with all the necessary ingredients for a good novel, such as love, betrayal, friendship and all kinds of troubles. I truly like her characters, to me they are genuine." - bokmalen81
"This is a very entertaining book and I do hope for a sequel and more books in the series. In addition, it is great fun to read a book that takes place in a school environment." - sofias_books
"A cosy read, its focus being friendship, both in private life and at work. I would really like to read more about Lisbeth. And her family doctor." -emiliesboktips