Curled Up Like the Letter O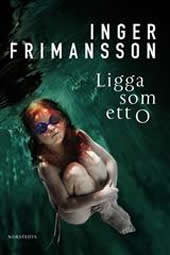 Rights sold
Sweden: Norstedts
Inger Frimansson has written an autobiographical novel about her childhood and teenage years and how her fears always drew her to dangerous and forbidden ideas, which eventually led to writing. Her fictional alter ego, Nina, undergoes a similar transformation.
Nina's family never had a secure place to live. Her father was always on the move because of his job, so at times the family must live with Nina's maternal grandparents in Släte, and at other times in apartments with short-term leases. Eventually they wind up in Jönköping, the Mecca of the Swedish Free Church.
Nina had an unusually lively fantasy from the very beginning. She dreams of becoming someone other than the shy, silent girl she is in reality. In the meantime, Death Greatcoat comes to visit, first taking her maternal great-grandfather, then her maternal grandparents, but they're already old. Yet one day, Death comes for her uncle, the father of her younger cousins. Nina becomes irrationally angry and also frightened, as she realizes that every family must sooner or later experience great sorrow. "Death comes to every Door," as one of her aunts has said. She also realizes that Death Greatcoat also wants to take her baby sister.
Nina's fears lead her to explore dangerous and forbidden ideas, and she flees reality through writing. She starts writing at an extremely young age and produces fairy tales, novels and poems – even a mystery novel filled with evil deeds. Her writing begins to appear in magazines and in high school, she wins the Lilla Nobelpriset and is invited to Stockholm to take part in the ceremonies at the Concert Hall. She now begins to dream that maybe she'll be able to have a published book – for real.
335 pages
Reviews
"Frimansson is phenomenal in her way of creating a frightening atmosphere in the most everyday situations and showing how easily respectability and caution give way to the uncontrollable…this book is not as dramatic, but I read through it in one sitting nevertheless."
Aftonbladet
"I'm most impressed by Inger Frimansson's sharp observations of human beings. She rarely deals in stereotypes but rather with a steady, calm skill in words, she depicts the strange ways people commit serious errors of judgment and also, in all well-meaning, try to save one another. Just the idea that something mild watches our attempts to stand on our own two feet in spite of the dangers around us is remarkably comforting."
Arbetarbladet
"I don't know if I have read a more frightening concentrated depiction of the mechanics of bullying than this one: she must listen. Frimansson shows all the great and small hells of growing up, but also the joy and the islands of freedom, and she does so with respect, keen sensitivity and empathy. This book is never touched-up nor sentimental."
Svenska Dagbladet
"Again and again I think of Joyce Carol Oates when I read about little Nina and her fantasy life which inverts night and day. Curled Up Like the Letter O  is the best book Frimansson has written so far; filled with nostalgia – and fear, this damnable fear, which refuses to disappear even when later on Nina receives a literary prize and with it respect."
Helsingborgs Dagblad
"…a sparkling tale of growing up, fear, anxiety, happiness and sorrow in one young woman's life as well as a picture of society which maybe has not faded away as much as one had thought."
Göteborgs Posten
"Curled Up Like the Letter O  is quite simply a reading experience I would never want to miss."
Smålandsposten
"Skillful, driven – and absolutely enjoyable."
Kristianstadsbladet