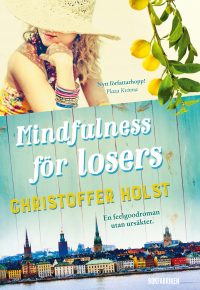 Rights sold
Denmark: Flamingo
Sweden: Bokfabriken
You can force the girl to leave "Hot Nights", but you can't make her forget.
Pamela Persson's life is far from perfect. She is 27 years old and still living at home in her parents basement in the small village Solvik in Sweden.  The job she has at the hair salon "Hot Clip" is neither bringing in any money nor is it any stimulating and all of the people in the village, including her old girlfriends, are looking down on her ever since she starred in the reality show "Hot Nights".
When Pamela's single one biggest interest in life - the American actor Wade Crust, is coming to Stockholm for a movie set Pamela sees it as a sign. Her big opportunity. She needs to escape from all that is associated with the small village that she feels stuck in and replace it with everything that is shimmering in the big city.
In Stockholm Pamela runs into the muscle builder - Sebastian who is driving a moped and the almost certified mindfulness coach Gloria. The search for a new life continues and shortly an opportunity opens up for her to meet with Wade Crust although she is constantly reminded of the life she left behind while it keeps biting her in the ass. And she keeps asking herself what it is she is really looking for?
Mindfulness For Losers is a romantic comedy about leaving the comfort of the place where you grew up to find a true home. It's about riding a moped through the city streets at night, the American dream crush and the right to be whoever you are without any excuses.
283  pages
Reviews
"Mindfulness for Losers is a charming and easy read. Precisely as with his debut My Heart Will Go On it is striking how well Christoffer Holst manages to describe a variety of people with such warmth and I am willing to accept just about anything. Everyone can be who they are and enough said. The tone is humoristic and Pamela is relatively self ironic".  - Lottens bokblogg
"Sometime you just become so ecstatic with joy and you want to scream out to the world that they have to HAVE TO read this masterpiece. Sometimes you can't even move on to the next book because you wanna stay in that feeling of perfection since you know it might take a while before you get to experience it again. Sometime you just wanna make out with a book (or an character or an author). And it doesn't even have to big fancy litteratur, well-known authors or original stories. Sometimes it just happens. There is a spark. And here it is! I really enjoyed Christoffer Holst's debut My Heart Will Go On. It was nice, warm and charming. But Mindfulness for Losers is something completely different. If My Heart Will Go On made my heart beat this one gave it a kick start and rush away into the late summer evening. A new author is born, I feel. He has excelled on all levels. If you imagine Emma Hamberg and Fredrik Backman having a love child, it would be Christoffer Holst".  – KULTURKOLLO
"There is a lot of warmth in this book and plenty of humor and it has only given me an appetite for more. Give me more Holst now!" - Bloggbohemen
"Building strong characters is one of Christoffer Holst strong sides, he can really create real and living characters where even the dialogue works in a trustworthy way".   – Midnattsord
"Mindfulness for Losers is a cosy and warm book that I really enjoyed. It is charming and funny and I got a cinematic feeling. It would make a really nice movie" – Maddes bokblogg
"A feel-good book about how you want life to be and about being who you are, with plenty of humor. " – Bokslukarinnan i Kalmar
"Mindfulness for Losers is a real feel-good novel that has a writing that is freely flowing"  – Bokparet
"Mindfulness for Losers is an entertaining book about not fitting in, but one that leaves you with a smile on your lips - the way a feel-good should" - Läserskans bokblogg
"Christoffer Holst has a great sense for contemporary time, and the current age we live in and he depicts it with a nice humor. It is so easy to understand, when you start reading, why others enjoy this book as well.  Because when I finish reading Mindfulness for Losers I am ecstatic." – Boktokig