The City Lights Will Brighten Our Night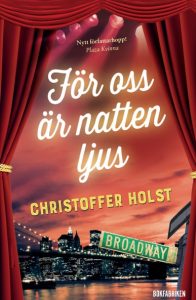 Rights sold
Sweden: Bokfabriken
Can the best city in the world fix the worst family in the world?
When the Brickman family find themselves stranded for a week in New York due to an airline strike they are forced to persevere each others company but most of all - they are forced to deal with their own thoughts about how they are living their life.  When left with a bit of time on their hands they all individually decide to try to challenge themselves.
A dream for many, but a nightmare for Oliver.
Oliver tries to deny the fact that he is force to share a living space with his out-of-date sister, mother in a crisis, his new stepmom and his crazy in love father and instead tries to focus on the fact that he is actually in New York City. The city of possibilities, the city of musicals. The dream about a life on Broadway doesn't seem to distant all of a sudden.
Everything is possible in the city that never sleeps and the Brickman family are faced to deal with everything that comes their way and life will, to say the least, hit them a few curveballs on their way to a better life.
It is a funny and hopeful story about dreams, crushes, family bonds and resurrection.
250 pages
Reviews:
"If Fredrik Backman and Emma Hamberg had a love baby it would be Christoffer Holst" Kulturkollo
"Christoffer Holst is the king of Swedish feel good according to me."
– Stories from the City
"I have a grin on my face throughout the whole book. For real. It is so damn funny. And cozy. Everyone needs to read it!"
– Josefine Sandblom, författare
"The City Lights Will Brighten Our Night is an easy read and has a lovely flow and feels almost cinematic. Just like a cozy romantic comedy."
– Beas Bokhylla
"If you feel a bit of 'fall depression' creeping up on you and you want to get rid of that feeling then picking up a Holst-book is a safe way to treat it"
-  I Hyllan, book blog
"The City Lights Will Brighten Our Night is yet another wonderful little feel-good story by Christoffer Holst. I don't really know exactly what it is, but I love Holst's books.  There is just so much warmth and lovely character descriptions and everything always turns out so well. Really it should bother me because I usually don't like the sugar-sweet, but Holst's books win me over every single time"
– Bloggbohemen, book blog
"The City Lights Will Brighten Our Night is the perfect feel-good! There is warmth, humour but there is also a bit of darkness. Because that is how life is."
– Lottens bokblogg
"An eventful story with both humor and sadness that brings up alienation, infidelity, communication, reconciliation and honesty. A modern and hopeful story that makes you think and feel. 4/5"
-Agnetas ABC, bokblogg
"An light, fun and very entertaining book."
– Bettans Boktips
"The book is warm, loving and filled with hope, I feel good  when reading it. The City Lights Will Brighten Our Night is the first book I've read by Christoffer Holst, but definitely not the last."
– Villivonkans Books