Snake and Ladder (Orm och stege)
Maria Ernestam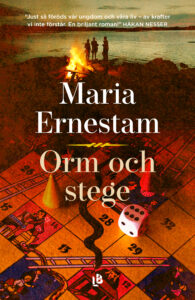 Rights sold
Sweden: LB Förlag
So it was there again, the image memory of a wounded body at the shore with the seagulls screaming around its head. What really happened there on the island? Did I even want to know?
A group of young people meet every summer in Vallerås. Since childhood, they have been welded together in a friendship that they believe overcomes all.
But the summer of 1978 will be different. The local parish gets a new pastor who enchants them and the atmosphere deteriorates, things are kept secret and old injustices are reminded. It ends in a disaster at sea.
Forty years later, another dies in the old gang. He leaves a wish to be buried in Vallerås and the former friends meet again. But the meeting gets tense and Ingrid, who never forgot what she was through that time, stays to search in the past. Was it an accident? Why did the community burst? Who lied to whom? And were they really alone on the island that night?
Snake and Ladder is a suspense novel that explores how far we are prepared to go to protect those we love.
Reviews 
"This is exactly how our youth and our lives are ruined - by forces we do not understand. A brilliant novel! " Håkan Nesser