On the Other side of the Sun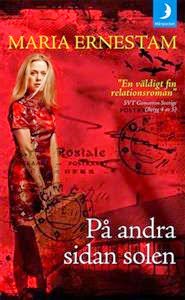 Rights sold
Germany: btb/Random House
The Netherlands: De Geus
Sweden: Forum
It is Spring Break and Viola, her husband Axel and their two teenage daughters travel to Skåne. They have gotten the opportunity to borrow a house, not far from the nursing home where Axel's mother being cared for.
At the visits with the mother-in-law Viola gets to know an old lady, Lea, who hands her a couple of novels she has written. The suggestive stories become a comfort during the dazing days in the remote house. Since Axel got sick four years earlier he has changed, and now everything gets worse.
At the same time as Viola starts to have a feeling about the truth behind the novels, she also realizes that she is actually scared of her husband. Who is he really? And does she still love him?
On the Other Side of the Sun is a strong novel about lies and betrayal, love and sorrow. And about a someone' dramatic life in China during their civil war.
281 pages
English reading material available. Translation by Henning Koch.
Reviews
"Ernestam creates a sensitive balance between Viola's words and the reader's image. In her care for the language and her feeling for the importance of details, Ernestam shows her skills as a psychological realist."
Svenska Dagbladet
" It is a beautiful relationship drama /…/ Ernestam is like a wise therapist."
SVT Gomorron Sverige.
"Maria Ernestam's authorship has more than once shown a combination of feet deeply rooted in the everyday mud and an unexpected flying fantasy. On the Other Side of the Sun is no different. Once again she shows how strongly engaged she is in writing about the ordinary person but in a way that makes the whole story become mystic and thrilling. Maria Ernestam knows, regardless of route, the art of writing a multi faceted story. And she stands unthreatened as one of my absolute favorite Swedish authors."
Nerikes Allehanda
"The content is often spicy and so it is this time. That is what Maria Ernestam does so well.
P4 Halland
"Maria Ernestam's first books were talked about through the great literary burlesque tone. In her latest, she changes tone and content by confronting the big eternal questions about love, sorrow and loyalty both to close and loved ones and to your own conscious. The engagement is enhanced even more by the fact that there are details in this novel that are taken from the author's own family. This is a story with both depth and content as well as grand epic entertainment. About female solidarity, shared pain and loyal support way beyond generation differences. And fantastically portrayed with a good feel for the esthetics of the language.
Växsjöbladet/Kronobergaren
"Maria Ernestam stretches the concept of "for better or for worse". How much do you have to take, how much is a marriage worth? There is also a parallel story about a young couple who go to China as missionaries. And it is about love as well. And some about eternity. About how love may be the only eternal thing. A frozen moment in time.
Femina