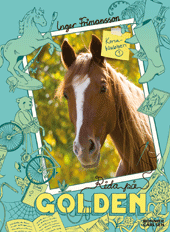 Rights sold
Denmark: Gyldendal
Germany: Kosmos
Norway: Piratförlaget
Sweden: Bonnier Carlsen
When Inger Frimansson starts her new series the two girls Eufrosyne and Ingeborg are the main characters. They are both crazy in horses and they both have very unusual names. What do you do with names like theirs? Well, you start the Unusual Names Club! Together they are strong and brave, both at the stable and in school.
Frossan is not really happy with her name, Eufrosyne. But she has gotten used to having an empty seat beside her in school and to wander alone at recess. Then one day the principal comes into the class room with a new girl. Ingeborg – Bojan. She gets the seat next to Frossan, and their weird substituting teacher calls their corner in the classroom the department of strange names. Shortly they discover they do not only have a mean teacher, they also share their love for horses.
Bojan rides her own horse, Golden Angel. Frossan is in the beginner's group, but would so much like to ride Golden together with Bojan. But can she tell Bojan  she is a all new at the stable? Will Bojan want to be her friend if she tells her she is a beginner?
190 pages
Reviews
"Great new horse series, with his endearing cover and heartwarming story which slides forward in a good speed. And it is seasoned with a little bit of tension, so the books are lovely pageturners for horse loving girls."
Lecteur, Denmark
"With the horse book Riding on Golden Inger Frimansson boldly gallops into a new genre, and there is no doubt, the story is written by a driven writer."
Svenska Dagbladet
"This well written book with its accessible and everyday language is the start of a new horse book series for children 6-9. The story about the middle school girls Frossan and Bojan and about life in a stable and in school, is drawn with warmth and love. The recognition factor is high not only for horse lovers, but for any reader."
Bibliotekstjänst
"Riding on Golden is a well narrated introduction to both the upcoming series and to a budding interest in riding. "
Uppsala Nya Tidning