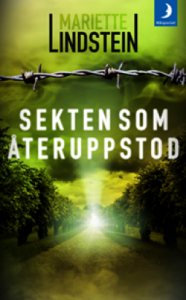 Rights sold
Australia: HarperCollins HQ
Canada: HarperCollins HQ
Denmark: Gyldendal
Finland: Atena
Germany: Blanvalet
Ireland: HarperCollins HQ
Netherlands: AW Bruna
Norway: Gyldendal
Lithuania: Obuolys
Poland: Bukowy Las
Russia: Eksmo
Sweden: Forum (previously Mörkesdottirs Förlag)
UK: HarperCollins HQ
Film rights: Sold (TBA)
Prizes and Awards
Crimetime Specsaver's debutant prize
in 2016 for "Fog Island"
Born into a cult. Raised by a tyrant
Thanks to Sofia, Franz Oswald is in custody awaiting trial, but he seems neither worried nor remorseful. With the help of his fashionable lawyer, Anna-Maria Callini, he spins a net that stretches far outside the prison walls, with but a single purpose: revenge. When Sofia decides to speak out about the sect her life once again turns into a living nightmare. To escape, she moves to San Francisco, yet Oswald´s network seems to stretch even over oceans. And in the wake of Oswald´s final revenge remains the crucial question: Can one ever become totally free from a cult?
Pages: 403
Reviews
Very interesting about how easy it is to get duped. Mariette Lindstein makes the whole cult-problem universally applicable in a frightening way.
-Lotta Olsson/DN
"One of our most deeply penetrating authors psychologically."
- Magnus Utvik
Creepy reading about a phenomenon that penetrates today's society. Mariette Lindstein writes in a way that makes you see the story as a Hollywood movie inside your skull. At least as good as Fog island. The suspense increases slowly, the characters are real and I am already impatiently waiting for the third book.
-DAST magazine
If possible even better than the first book. More drive, impressive language with nice flow in the text that makes it worth reading without being empty. It is absolutely brilliant to be able to use your personal experiences this way.
- Jonas Danielsson/Magazine and TV-reviewer
Is it possible to leave a sect? And what happens to the people who do? Extremely suspenseful and the author does her best to explain and shed a light on the phenomenon of cults.
-Hallandsposten/Hallands Nyheter
An intelligent and skillfully spun intrigue about cult mentality and a thrilling continuation of the first book. The author shows that she knows her subject and once again creates a "must-read" thriller.
-BTJ
It´s damned suspenseful, despite the absence of Norwegian serial killers with mothers-complex or alcoholic police officers. Franz Oswald is a devilish, damned good, bad guy.
-The book-box
It is fatally suspenseful from start to the finish. I had to check that the front door was locked several times. It is extremely good, fascinating, touching, electrifying and horrifying. Brilliant!
Blog, Stories of the City
Do read this book! It is well written, and if possible even more suspenseful than the last book.
-Blogg on religion
It is fantastic! Written with such passion, such insight, suspenseful from the first page, fun to read amidst the sickening, sad story that the author tells so skillfully.
-Anna Lindman, tevereporter, journalist
Thrilling and fast paced, entertaining and easy to read. If you liked the first book you will absolutely like this one!
-The Book shelf (blogg):
I was sucked into this book from the start. It is suspenseful, creepy and definitely touching.
-Crazy about books: (blog)
The first book was suspenseful and this one becomes creepy in parts. What a page-turner! It´s impossible to put it down. Highly recommended!
-West Sweden blog/Kulturkollo
It is frightening to read this book and that´s what makes it so very important. It makes me cheer for the good forces, both in the book and real life. Those who continue to fight against darkness and evil.
-Blogg, Forward with the audio-book in your ear
What can i say? She did it again! Beautiful descriptions that make a language-enthusiast happy. And suspenseful! It gave me creepy sensations of the kind that are connected to cults. I highly recommend this book!
-Lotta Modin/journalist/writer
It gave me a clear and genuine understanding and respect for people who are in sects. I recommend my followers to read this book – I urge you!
-Blogg Fangadiensekt
Quotes from Canadian bloggers and media:
"This is the first in a planned trilogy and I will certainly read the next book.
If you have any interest in cults then this is worth reading or simply read it as a modern day thriller that is different to the usual crime thriller." - Elsie Pardon, Amazon review
"It had me hooked from the first page. I just wanted MORE as the story went on. It's realistically scary - and it's not your typical thriller. It felt like this was something that could actually happen to someone!" - Savvy Reader
Quotes from Dutch bloggers and media:
"It feels authentic because of the high quality fiction. Scary from the very prologue."
Amsterdam newspaper. The Netherlands
"A mesmerizing thriller! The suspense just increases. The reader gets the heart in the throat. Exciting scene after exciting scene unfolds until you can't breath. It is so exciting you wonder if the film rights already have been sold."
Scriptgirl blog. The Netherlands
"What makes it so thrilling is not 'Who did it?' but "How far are they going to go?'
It totally captured me.
Blog. Stralend Scrijven . The Netherlands
"It gave me goosebumps. I read it obsessively. I could not put it down. I could not stop turning the pages!"
Read Junkie blog.
"Seamless writing, smooth dialogue, excellent structure of the story itself. A masterpiece! A very ominous book."
Hanneke Tinor-Certi Blog. The Netherlands
"It captured me from the prologue. The suspense just increases by the minute."
Thrillers and More. The Netherlands
"The tension just builds and builds and builds until the end."
Jaike vs de boeken, blog. The Netherlands
"Excellent characters. An impressive thriller with energizing and cinematic narrative that gives a terrifying view of life in a sect. Multiple cliffhangers, blood curling anxiety - a magnificent page turner"  Wendy Winning, Boekenbijlage book blog'
"Suspense: 5 stars
Plot: 5 stars
Reading pleasure: 5 stars
Writing: 5 stars
Originality: 5 stars
Psychology: 5 stars" -  Wat Cees Lest, book blog The Netherlands
"Lindstein has a a wonderful way of writing. The story is full with suprising twists. She really knows, like no other, how to capture the reader's attention. With Children on Fog Island Mariette Lindstein has written a worthy finish to this fantastic thrilogy!" - Thrillzone, book blog The Netherlands – Thrillzone also named Children on Fog Islandone of the top thrillers of 2018
Quotes from UK bloggers and media:
"The eagerly anticipated Fog Island by Mariette Lindstein. Originally published in Swedish, the slow burning English translation will have chills running down your spine!" – LoveReadinguk, book blog
"I loved it… terrifying" Lisa Hall
Quotes from Polish bloggers and media:
"10 stars out of 10 possible.  I have read it twice now. I recommend everyone to read this series in order to understand the mechanisms that make a cult. Warning: The psychological supense thread created by the author makes every nerve in your body shiver while reading"– JESZCZEROZDZIAŁ – Book blog