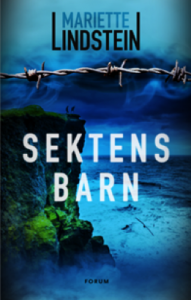 Rights sold
Australia: HarperCollins HQ
Canada: HarperCollins HQ
Denmark: Gyldendal
Finland: Atena
Germany: Blanvalet
Ireland:HarperCollins HQ
Netherlands: AW Bruna
Norway: Gyldendal
Poland: Bukowy Las
Sweden: Forum (previously Mörkesdottirs Förlag)
UK: HarperCollins HQ
Film rights: Sold (TBA)
Prizes and Awards
Crimetime Specsaver's debutant prize
in 2016 for "Fog Island"
Born into a cult, raised by a tyrant. 
Fifteen years has passed since Sofia Bauman escaped from ViaTerra a second time. Franz Oswald seems to have vanished from the surface of earth and Sofia has a good life with her husband Benjamin and their daughter Julia. But Sofia´s peaceful life comes to a halt when a hurricane savagely blasts the Swedish coast, leaving a wide swath of destruction. In the wake of the storm, Oswald suddenly reappears in the public arena and takes advantage of the chaotic aftermath. He has created an enormous global, internet-based network. Concurrently, he has instituted a camp for children of prominent members of ViaTerra, including his own twin sons, where brainwashing, abuse and cover-up are a way of life. Once again Sofia and Oswald´s paths meet as do their children´s in a ferocious cat-and-mouse game where only one can come out on top.
Note from the Author: This manuscript was written in close coordination with the Jenna Miscavige Hill, author of the book Beyond Belief.  The accounts from the Children´s School at Via Terra closely resemble the truth of how the children were raised at the headquarters of the Church of Scientology outside Los Angeles.
427 Pages
Crimetime Specsaver's debutant Prize, the jury's reasoning:
"Over 500 pages are completely devoured. Both the jury and the many readers who voted were unanimous – the book is impossible to put down. The language is unpretentious. The feeling of a documentary novel makes it stick out on the overcrowded crime novel shelves. The author writes about a secluded world in a way that is extremely believable and fascinating. A suspense novel about what makes people go through hell and high water because of the desire to belong. This is the first in a new fiction trilogy – we really look forward to the continuation."
Reviews in Swedish Media: 
"One of our most deeply penetrating authors psychologically."
- Magnus Utvik
"Creepy and very good. Children of the cult is extremely suspenseful with a story that never stands still. To end on top is never wrong and that is precisely what Mariette Lindstein does when she leaves ViaTerra."
- Hallandsposten/Hallands news
"This is blistering, skillful suspense literature! A breathtaking end to a trilogy that no avid thriller-reader or booklover should miss."
- Folkbladet newspaper
"The well-written story is mercilessly driven forward when the tension before a lethal confrontation keeps the reader on edge. Lindstein had succeeded very well in describing the children and the events that affect them. I thought the two earlier titles were very suspenseful, but here the author has taken the element of thriller to a whole new level. It is excellent fiction based on reality."
- DAST Magazin
"This is one of the summer´s best thrillers. A nailbiting conclusion of the trilogy about Fog Island."
- Amelia magazine
"A well written, extremely suspenseful final title where everything comes to its climax. The author ends her trilogy in her usual, excellent storytelling-style."
-BTJ
"Just as suspenseful as the other parts – even better written!"
-The workers magazine (Arbetaren)
"Mariette Lindstein delivers suspense at a top level. Written with picturesque, expressive language. I recommend Children of the cult as a page-turner to be read dark summer nights."
-Johannas deckar-corner, book blog
"Utter suspense in world class! Books about getting stuck in a cult and the consequences for oneself and ones nearest, written as wonderful, nerve-wracking fiction. Five stars out of five possible. Read them, buy them, borrow them! Wonderfully creepy and enthralling books."
-The pocket Witches
"Fantastic book! Have not wanted to put it down once. Five stars!"
-The book blog Books and words
"The best book I have read in a long time. Easy to read, suspenseful and impossible to put down. Five stars out of five."
-Evastina's bookshelf
"Suspenseful, gripping and strong!"
-Jennie's book list
"A fiction page-turner with nerve. The last book ties the series together perfectly.  Highest possible score, without a doubt."
-The blog: The Bookshelf
"Children on Fog Island is, just as the other books in the series a complete page-turner. Really, really frightening."
-Västmanländskans Book blog
"An excellent book that I definitely recommend for others to read, and preferably read the whole trilogy in the correct order."
- Book pool
"En bok som levde upp till mina höga förhoppningar och berörde. En fängslande bladvändare. Full pott. Fem stjärnor av fem."
-Bokblogg, Villivonkans books
"Everyone should read this book. Lindstein is a competent author and her own experiences shine through the pages and hit you emotionally. It´s sad to say farewell to Fog Island."
-Ellybellybi, Bokblogg
"Impossible to put down, horrifying reading. It is a  really good end to this important must-read series."
-Bokblogg-girls
"I liked it as much as the others, but this book is written with an even more beautiful language."
-Bookthought
"This can be the most suspenseful book I have ever read. It´s so easy to fly through the pages, but impossible to forget."
-Blogg: Disappear and remain.
"Incredibly well written and suspenseful. I have listened all night, not slept one second. I just could not stop."
-Author Ewa Swedenmark
"Completely nerve wracking, fantastic thriller!"
-Author Charlotta von Zweigbergk
Quotes from Canadian bloggers and media:
"This is the first in a planned trilogy and I will certainly read the next book.
If you have any interest in cults then this is worth reading or simply read it as a modern day thriller that is different to the usual crime thriller." - Elsie Pardon, Amazon review
"It had me hooked from the first page. I just wanted MORE as the story went on. It's realistically scary - and it's not your typical thriller. It felt like this was something that could actually happen to someone!" - Savvy Reader
Quotes from Dutch bloggers and media:
"It feels authentic because of the high quality fiction. Scary from the very prologue."
Amsterdam newspaper. The Netherlands
"A mesmerizing thriller! The suspense just increases. The reader gets the heart in the throat. Exciting scene after exciting scene unfolds until you can't breath. It is so exciting you wonder if the film rights already have been sold."
Scriptgirl blog. The Netherlands
"What makes it so thrilling is not 'Who did it?' but "How far are they going to go?'
It totally captured me.
Blog. Stralend Scrijven . The Netherlands
"It gave me goosebumps. I read it obsessively. I could not put it down. I could not stop turning the pages!"
Read Junkie blog.
"Seamless writing, smooth dialogue, excellent structure of the story itself. A masterpiece! A very ominous book."
Hanneke Tinor-Certi Blog. The Netherlands
"It captured me from the prologue. The suspense just increases by the minute."
Thrillers and More. The Netherlands
"The tension just builds and builds and builds until the end."
Jaike vs de boeken, blog. The Netherlands
"Excellent characters. An impressive thriller with energizing and cinematic narrative that gives a terrifying view of life in a sect. Multiple cliffhangers, blood curling anxiety - a magnificent page turner"  Wendy Winning, Boekenbijlage book blog'
"Suspense: 5 stars
Plot: 5 stars
Reading pleasure: 5 stars
Writing: 5 stars
Originality: 5 stars
Psychology: 5 stars" -  Wat Cees Lest, book blog The Netherlands
"Lindstein has a a wonderful way of writing. The story is full with suprising twists. She really knows, like no other, how to capture the reader's attention. With Children on Fog Island Mariette Lindstein has written a worthy finish to this fantastic thrilogy!" - Thrillzone, book blog The Netherlands – Thrillzone also named Children on Fog Islandone of the top thrillers of 2018
Quotes from UK bloggers and media:
"The eagerly anticipated Fog Island by Mariette Lindstein. Originally published in Swedish, the slow burning English translation will have chills running down your spine!" – LoveReadinguk, book blog
"I loved it… terrifying" Lisa Hall
Quotes from Polish bloggers and media:
"10 stars out of 10 possible.  I have read it twice now. I recommend everyone to read this series in order to understand the mechanisms that make a cult. Warning: The psychological supense thread created by the author makes every nerve in your body shiver while reading"– JESZCZEROZDZIAŁ – Book blog
Danish reviews: 
"A fantastic ending to a well-executed trilogy. The book is completely impossible to put down, and is gripping from the first to the last page." - Sanne Mendel, library services
"Children of the Cult is the end of the trilogy, written by Mariette Lindstein. At the end of the reading, it must simply be stated that it is nothing short of captivating, frightening and excellent at the same time...Here the reader is invited into Via Terra and gets to see the life of the sect from the front row. But also gain insight into how brainwashing and manipulation can control a group of people completely...As a reader, it can be clearly recommended to read the entire series. If you just read Children of the Cult there are a lot of implied episodes and relationships you miss and this will disturb the overall impression of the book.Mariette Lindstein has written an excellent ending to her trilogy, and it is recommended with the highest rating I can give it. 6 out of 6" - Pernille Lyneborg, bogfidusen blog
Interview in Swedish TV4  with Mariette Lindstein about the book and how the series came about