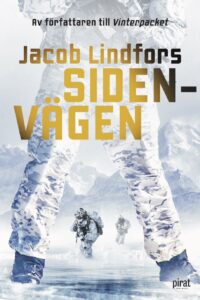 Rights sold
Sweden: Piratförlaget
Norway: Cappelen Damm
Film rights: Nevis productions
The leader of The Winter Pack was shot to death by the Armed Forces. But someone hired him to set Norrland on fire, and the tracks lead to the Himalayas. Mattias Kassian and his colleagues in the Special Operations Group head to Central Asia to hunt for answers.
On the home front, the Swedish authorities must deal with both the acute threat from Russia and the rubble of the fragmented Winter Pack. SOG receives support from combat units from neighboring countries, not least the Norwegian Hunter Troop - the world's first all - female special forces unit.
But in the Himalayas, a danger arises that no one could have imagined. And to even get there, SOG has to go through war-torn Afghanistan and a Kabul that has just fallen into Taliban hands.
The Silk Road is about how to survive the day when you carry the scars from yesterday. This is the sequel in the story of Mattias Kassian's fight against the northern crime network The Winter Pack.
599  pages
Reviews: 
"Action-packed military thriller with an international atmosphere. And its action from beginning to end. In every chapter!"
Johan Anderblad, TV4 News Morning Sofa
"From a good to brilliant in this sequel. The debut only seems to have been a warm-up before the author dares to immures himself fully in the plot with full power. This is of course far from the fantasy genre, but I still think of some of the most magnificent scenes from The Lord of the Rings and similar works while reading. It feels natural that the film rights to this trilogy have already been sold; here is the basis for an international major film that we readers can already experience in our heads when we follow Mattias Kassian's hardships in the Himalayas." - Kapprakt
"Realism and high suspense" - C.Lundh, NLT magazine
" 'Länge leve packet' (Long live The Pack) The Silk Road by Jacob Lindfors is the second book about SOG operative Mattias Kassian. This book continues the story and although the leader of Vinterpacket was killed in the first book it seems that there are forces behind the events that leads abroad. First of all to Himalaya, where Mattias and his fellow soldiers together with the Norwegian Jegertroppen and with a little help from CIA and some Navy SEALS are trying to enter through Afghanistan. At the same time the Russians are threating with an invasion of Sweden to expose their nuclear arsenal. Things don't go as planned in Afghanistan and after an assault from an unknown group of hostiles the group is forced to withdraw but Kassian is left behind presumed dead. For Kassian begins now a journey of epic proportions and the rest of the group in sent home to Sweden and Norway to prepare for an attack from Russia. We get some clues to who could be behind Vinterpacket but it is not a simple sollution and although the book is almost 600 pages we get a cliffhanger combined with lots of new questions. Just as the previous book this is well written and fast paced, filled with action and suffering. Jacob Lindfors is without a doubt one of my new favorites. I am pleased to see that we have some great thriller authors in Sweden."  - abibliofob