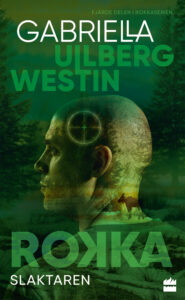 Rights sold
Bulgaria: ERA Publishers
Denmark: HarperCollins Nordic
Finland: HarperCollins Nordic
Germany: HarperCollins Germany
Norway: HarperCollins Nordic
Sweden: HarperCollins Nordic
The Czech Republic: Computer Media
It's the beginning of October and the elk hunting season has just begun in Hudiksvall in the north of Sweden. One early morning the butcher Hans Larsson makes a terrible discovery when he sees a human body hanging from the ceiling in his slaughterhouse.
Johan Rokka and his colleagues at the police station in Hudiksvall do not doubt that the victim has been tortured. It is, however, only the first brutal murder in a series. The police search for the truth and it turns out to be more savage than they could have imagined.
Dead Meat is a crime story about greed and revenge with a fast tempo and many parallel stories all intertwined.
Johan Rokka, the handsome and rough local hero from the North, wakes desires and solves crime with a big heart. This is the fourth part in the Rokka series.
350 pages
Reviews
"The book gets a solid 5/5. It is like Gabriella's previous books, well-written, correct portrayals of the policemen and their work and incredibly thrilling. I envy all of you who haven't read it yet. Read, enjoy and sweat because this is a horrifying and really frightening and bloody story"  - Bokvurmen book blog
"Gabriella Ullberg Westin has done it again in this fourth book about Johan Rokka. It has a high tempo and it's both exciting and sad. It brings up what greed can do to people. It also treats the subject of how people handle grief and how love and desire sometimes can make you blind.
The author is so damn sharp and good at tying together different events in the story. If you haven't yet read the others in the series go do it! Gabriella is one of our amazing queens of crime." - Evas bokhylla, book blog
"It ended way to fast. 5/5" - Evastinasbokhylla, book blog
"It gave me chills. It's raw but in a good way. It never becomes to much. The authors attention for detail and how everything is tied together is excellent! 4,5 /5". - Villivonkansbooks, book blog
"Brilliant, fascinating and extremely suspenseful! 5/5 " - Jenniesboklista, book blog
"Ullberg Westin shows yet again her incredibly ability to combine suspense with fantastic environmental descriptions of nature, people and tragic destinies. I love the book about Johan Rokka. The story is well thought through. 5/5" Annas Deckartips, Book blog