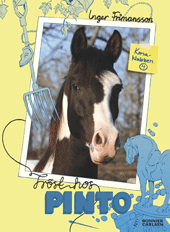 Rights sold
Denmark: Gyldendal
Sweden: Bonnier Carlsen
When we meet Frossan, Bojan and their friends in the stable for the fourth time, the atmosphere is low. Something terrible has happened. Something about Misja.
Misja is a really tough horse who used to bite and kick. But it has its explanation. Misja has a bad back pain. The vet doesn't think she can ever get well again. When riding instructor Susanna hear about Aino, she decides to give Misja a chance. Aino has cured a number of horses. And Misja gets better and better. Until one early morning. Then something terrible happens.
Frossan and her friends grieve Misja and find comfort in the new horse, Pinto. In Pinto's box one gets to cuddle. For Frossan, it isn't only overwhelming to keep track of the feelings for Pinto and her beloved horse Rabalder, but there is something with Hercules too. Why does it tickle in her tummy every time he's around?
Inger Frimansson has with her many books for young readers gotten a unique position as one of our most popular and widely read authors. With the Unusual Name Club Series, where we meet the friends in the stable and in their everyday life at school, Inger Frimansson quenches the reading thirst for many, many elementary readers.
221 pages
Reviews
"Inger Frimansson's Comfort From Pinto is written with great warmth and has a language that flows effortlessly. Book worms who like horse books will likely stretch read the 27 chapters at the same time as they yearn for a sequel."
BTJ