He Waits for Darkness to Strike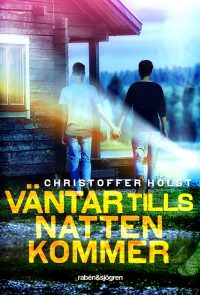 Rights sold
Sweden: Rabén&Sjögren
One happy relationship filled with love in present time and another that was never answered in the past...
The two city boys Lukas and Sam are madly in love and plan to spend the summer in a fishing cottage by Lake Vänern in Sweden. But Sam has to work and Lukas struggles with his loneliness and broken past. When a sudden and strange flick of light appears during the night he begins to suspect that there is a dark mystery hidden in the walls. As the weather slowly turns worse in the dark woods around the lake, the ideal summer that the boys had dreamed of suddenly becomes a nightmare.
A supenseful summer read about love, revenge and starting over again.
200 pages
Review
"He Waits for Darkness to Strike  is an incredibly scary horror story with skillfully proportioned number of events, classical horrific elements that afterwards makes you wonder - was it just a bogey or was there an actual sound? Until you're not wondering anymore but instead find yourself screaming at the top of your lungs."
DN - Lotta Olsson
"He Waits for Darkness to Strike ... Holst has managed to mix both horror and mystery with his humoros language where the result is a simply brilliant YA book. The book contains plenty of classic elements yet it feels fresh and unique"
– Selma Merdociv, Södermanlands Nyheter