"Surrounded by Psychopaths" (Omgiven av Psykopater) 
Beijing Zito Books, China
Sold in collaboration with Andrew Nurnberg
"Surrounded by Psychopaths" (Omgiven av Psykopater) 
Wielka Litera, Poland
Sold in cooperation with Book/Lab
2017-11-21
Johanna Nilsson was awarded today by her hometown Borlänge with this years Culture Prize for her authorship and of course the nomination for this years August Prize for her recent novel "To Awaken the Dreamer" was mentioned as one of many fantastic contributions to Nilsson's long list of works so far in her career. We are very proud of Johanna!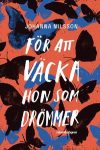 2017-11-02
Enberg Agency wishes to welcome a new author the agency family: Liselotte Roll. She writes the kind of psychological crime that no reader will want to put down until they've finished the last page. Her previous books have sold in half a dussin countries and we will work with her soon to be announced new book which we are very excited to tell you all about very soon. But first of all - Welcome Liselotte!
2017-10-15
We have just come home after a very successful fair in Frankfurt and are very excited about the response we get from our fantastic list of authors and their brilliant titles! Thank you for supporting our work and we couldn't be happier to be sharing these stories with the help from our global colleagues to readers all over the world. More fun news to come soon!