"Surrounded by Psychopaths" (Omgiven av Psykopater) & 
"Surrounded by Idiots" (Omgiven av Idioter)
In cooperations with Pasi Loman at Vikings of Brazil to
Editura Letramento,
Brazil
"The Man in the Wall" (Mannen mellan väggarna)
To Argo, Czech Republic sold in cooperation with Andrew Nurnberg and Jitka Nemeckova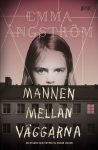 2017-05-29
Enberg Agency is thrilled to welcome Christoffer Holst! Christoffer is our King of Feel-good, his writing is quick, contemporary and cinematic and they are all pure joys to read. Christoffer has exciting plans to combine his passion for love stories with his other passion for suspense and we are looking forward to sharing more news on his upcoming books with all of you - but first - Welcome Christoffer!
2017-05-22
With great satisfaction we welcome Dan Katz to Enberg Agency! Dan Katz is the author behind the top listed "The Lizard Inside Your Head" (Ödlan i huvudet).  Something as rare as a non-fiction coffee table book framing the most basic obstacles in life that cognitive behavioral therapy is useful for. With humoristic and accurate illustrations and the written word from an experienced therapist the reader is introduced to the most important mindsets to handle life. The colorful and striking illustrations are made by Yvonne Svensson.
Dan is a psychologist and therapist, his idea is to make cognitive behavioral therapy available for all, easily accessible and both helpful and entertaining to see and read! His writing continues . We are very glad to share more information about "The Lizard Inside Your Head", a perfect give away book and Dan Katz and his coming projects.
2017-05-09
Enberg Agency is glad to announce that Anna Ihrén has now joined our author-family! Anna Ihrén is the author of The Smögen Murder Series, (Morden på Smögen), published by Fri Press in Sweden. A Swedish "Midsomer Murder" set in the fishing island Smögen on the West Coast. Anna has written three books in the series and the fourth one is coming up as well as some other exciting news that we can soon share with you! But first of all: Welcome Anna!
2017-04-17
Maria Enberg was interviewed in the Swedish newspaper Boktugg about the deal on "Surrounded by Idiots" to the US and the huge success that the book is having in Finland - read the article here.
2017-02-20
First impression -  trust in "love at first sight" or flee while you still have the chance? The first time we meet someone our minds struggle to figure out who this other person might be - friend or foe?
At Enberg Agency we are very proud to be the new representatives for Angela Ahola, Doctor of Psychology of perception, and a specialist on that very crucial first meeting. We begin with her "The Art of Making  Impression" ( Konsten att göra intryck, Publisher: Natur & Kultur).
2017-02-01
Enberg Agency is very proud to welcome Charlotta Von Zweigbergk to the agency! Zweigbergk will be our newest addition to our womens fiction list with her feel good novels and had a very successful year being nominated for an August Prize in the Best Fiction category for her novel "Trapped in Poverty" (Fattigfällan). It's about a woman who due to her sickness loses everything she has built up. We follow her as she is forced to the lowest level of society and her struggles with the Swedish socialistic system when trying to get back up again. Dagens Nyheter's reporter Lotta Olsson wrote "It's so well-written and so important that it should be one of the fundamental books in economics for everyone". We look forward to telling you all more info soon - but first welcome Charlotta!