"The Man in the Wall" (Mannen mellan väggarna)
To Argo, Czech Republic sold in cooperation with Andrew Nurnberg and Jitka Nemeckova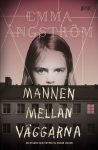 "Surrounded by Idiots" (Omgiven av Idioter) & "Surrounded by Psychopaths" (Omgiven av Psykopater) 
To
 Droemer Knaur,  Germany

2017-02-20
First impression -  trust in "love at first sight" or flee while you still have the chance? The first time we meet someone our minds struggle to figure out who this other person might be - friend or foe?
At Enberg Agency we are very proud to be the new representatives for Angela Ahola, Doctor of Psychology of perception, and a specialist on that very crucial first meeting. We begin with her "The Art of Making  Impression" ( Konsten att göra intryck, Publisher: Natur & Kultur).
2017-02-01
Enberg Agency is very proud to welcome Charlotta Von Zweigbergk to the agency! Zweigbergk will be our newest addition to our womens fiction list with her feel good novels and had a very successful year being nominated for an August Prize in the Best Fiction category for her novel "Trapped in Poverty" (Fattigfällan). It's about a woman who due to her sickness loses everything she has built up. We follow her as she is forced to the lowest level of society and her struggles with the Swedish socialistic system when trying to get back up again. Dagens Nyheter's reporter Lotta Olsson wrote "It's so well-written and so important that it should be one of the fundamental books in economics for everyone". We look forward to telling you all more info soon - but first welcome Charlotta!
2017-01-19
Enberg Agency is very proud to welcome Emma Ångström! Emma Ångström is the author of THE MAN IN THE WALL, (Mannen mellan väggarna), published by Pirat in Sweden. A remarkable and nerve-racking thriller with a "monster" you will come to like. The writing of Emma Ångström resembles of Marie Hermansson and the recent successful Caroline Eriksson. A thrilling thriller with elements from the horror-novel, suggestive and emotional. A full English translation is available. We will be back with more information within shortly. But first – Welcome Emma Ångström!
2016-11-18
On the front page in today's Bookseller. The Fog Island Trilogy continues to travel and we are delighted to share the exciting news with you all. The trilogy series by Mariette Lindstein is going to be published in UK, Ireland, Canada and Australia through HarperCollins HQ. Read more here!
2016-10-17
Mariette Lindstein and her thriller series THE FOG ISLAND TRILOGY moves to the publishing house Forum. The former publisher Mörkesdottir has together with Mariette Lindstein made a tremendous job building this success and will for always be a part of it.
Today the series is sold to several other countries, top listed in Sweden and the demands for Mariette Lindstein's presence all over the country and abroad, both as a lecturer as well as part of literary performances has grown, therefore a big publishing house is a must and Forum has great plans for the trilogy. A perfect match!
2016-10-15
Thomas Erikson and his tremendous success SURROUNDED BY IDIOTS moves to the publishing house Forum . In spring 2017 they publish the new book by Thomas Erikson; SURROUNDED BY PSYCHOPATS. Another must-read! Congratulations to Forum, Thomas Erikson and the readers!