"Sweet Red Summer Dreams" (Söta, röda sommardrömmar) 
Sold to Stortebeeker, Netherlands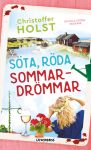 Two book deal "The Cult that Resurrected" & "Children of the Cult"
Rights sold to Blanvalet, Germany
2018-07-02
Today we officially welcome Bettina Bieberstein Lee to the Enberg Agency family!  Bettina's psychological thriller novel The Raven Sisters "Korpsystrar" has been nominated for Best Debut at Crimetime Specsavers Awards 2018. Can't wait to share this title with you all!