Greetings from Båstad & 24 Good Deeds
Two book deal - Sold to Palatium Books, Denmark
Sweet Red Summer Dreams & Blue Blue Autumn Waves 
Two book deal - Sold to Gyldendal, Denmark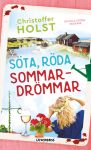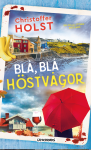 2019-01-21
As the chocolate lovers we are - Gustaf Mabrouk is our new Guru. His book THE CHOCOLATE MAKER'S HANDBOOK is an award winning cookbook with lots of inspiration to immerse yourself in. It's also filled with knowledge about what it takes to grow Cacao and the process of Bean to Bar Chocolate.
This week Gustaf is competing with the Swedish National pastry team at the Coupe du monde de la patisserie 2019. We have our fingers crossed - and hope he brings back some chocolate leftovers for us. The book's images is by photographer Bengt O Pettersson and the images will make you drool. Welcome to the agency - let's bring this book out into the world for all other chocolate lovers out there.
2019-01-17
Today we have the pleasure of welcoming a new book title to our Non-fiction list. The Quest for a Perfect Gin & Tonic by Hans-Olov Öberg. Currently on its fourth print run this bestselling title offers humour, warmth and empowerment to all G&T lovers .
There literally is no book like this on the market today and it is the winner of two Gourmand Awards - Best Swedish Cocktail book and Best Swedish Drinks photo books. Can't wait to share it with you all!
Released in Sweden by LB förlag. More info is coming soon!
2018-12-20
We have the great pleasure to announce that we now represent Birgitta Bergin! Her eigth novel, the partly historic relationship drama THE DUTCHMAN (Holländarn)  has been very well received. Her next novel for 2019, THE MADWOMAN- the neighbor from hell (Toktanten – grannen från helvetet)  is a story many can relate to, we have all met her in some shape, here she is on the Swedish Coast, a place that should be peaceful .... The seven earlier feelgood titles are real reader's treats, great for any woman's list.
Birgitta Bergin is published with success at Bokfabriken in Sweden and now it is time for us to introduce her work for the rest of the world! More information will come.
2018-12-19
For this years Storytel Awards the voting will begin on January the 7th. We are proud to se several of our authors nominated.
In the Young Adult genre we have two books by Johanna Nilsson, In a Hundred Days and Like, Hate the Whore both about deep and important subjects such as bullying and the will to take ones own life. And Katarina Wilk's debut #Walkwithme about the modeling world and its sometimes devastating consequences.
For the Best Novel genre Camilla Davidsson's most recent Good Read pearl is nominated - Small One-Bed With Potential. Camilla is there for the second year in a row. This time with a new series that has been a huge success already!
2018-11-07
Today we officially welcome Katarina Wilk to the Enberg Agency Family. We're starting with her non-fiction book - Perimenopower. More info is coming soon!