Camilla Davidsson
High quality good-reads for feel-good lovers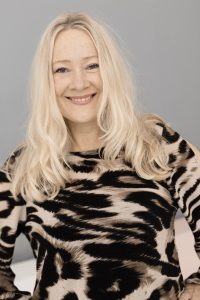 Rights sold
Sweden
Denmark
Camilla Davidsson worked with marketing for a number of international companies, but after giving birth to twin daughters, she and her husband decided to leave the big city for a life in the Swedish mountains. This change gave room to explore an unspoken dream, to write. Today Camilla writes and in summer she runs a Bed & Breakfast on Fårö, the northern part of the Island of Gotland.
Life's many opportunities have always fascinated Camilla Davidsson. Her own life has been both ordinary and spectacular. Constantly confronted with alternatives, she has been fascinated by the energy it takes to handle life decisions, and how many times we make the wrong decisions. One mission in her writing is to find the psychology behind how we chose, could we help ourselves in any way? This is mirrored in the debut novel from 2014 "Under the Stars of the Milky Way". The first novel in a trilogy with Emma, the stressed-out career woman, who makes a lot of less fortunate decisions.
Bibliography
2018 "Small One-Bed Apartment With Potential" (Liten tvåa med potential), novel
2017 "Songs in the Nightfall" (Sånger i Skymningen), novel
2016 "The Angels Dance at Dawn" (Änglarna dansar i gryningen), novel
2015 "The Guest House at the End of the World" (Pensionatet vid världens ände), novel
2014 "Under the Stars of the Milky Way" (Under Vintergatans alla stjärnor), novel
Author webpage www.camilla-davidsson.com
Author photo: Niklas Palmklint
Contact us for photo rights
Link to a reader review in Swedish where the reader went back and read the first two novels AGAIN to write a review on the whole trilogy.
http://www.bokmalen.nu/2016/09/tre-resor-som-far-livsavgorande.html 
Extract from the review:
"The books contains a lot of recognition, We have all been in situations like Emma is faced with. Not all of us deal with it the same way as Emma does, she hikes the 80 miles long pilgrimage to Santiago the Compostela, a life changing experience." (...)  The trilogy about Emma and her struggle to make the right decisions in life is something we can all identify with. Life is not simple and sometimes we have to make hard choices, that not only affects us but the people around us. Camilla Davidsson describes this very well. And what could have been books that lectures us has instead become three darling good reads with lovely descriptions of surroundings and nice characters. (...) It's hard to let go of Emma and her life, and her life choices brings out both frustration, makes me annoyed and happy at the same time. "
Bokmalen