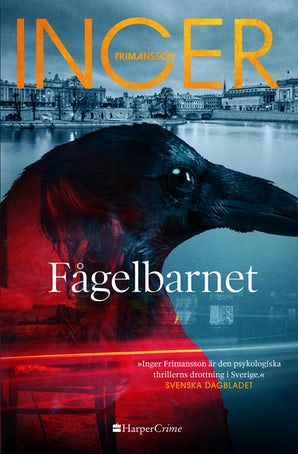 Rights sold
Finland: Like
Sweden: Harper Collins Nordic
Stockholm, 2005
The bird that lives in the house of Justine Dalvik, by the shore of Mälaren, isn't its usual self. Even the man that she lives with is pulling away and beginning to change; one day he disappears without a trace. The anxiety staggers Justine. Her comfort zone is threatened, and it doesn't help that one of the tormentors from her past suddenly shows up again.
At the same time, the blind seventeen-year-old Christa is trying to put up with her existence after the inconceivably terrible episode that took her dad's life. Her mother has sold the house that Christa loved and has forced them into a small little apartment in the city. Christa desperately misses her old life. One day Christa also goes missing and the only thing left behind is a letter. Christa needs help. Quickly.
THE LONE BIRD is a stand-alone continuation to the awarded books about Justine Dalvik:  GOOD NIGHT, MY DARLING (1998) and THE SHADOW IN THE WATER (2005).
391 pages
Reviews 
"Inger Frimansson writes in a masterful way about complex human relationships, where it is hard to tell what's what: Love or Hatred? Addiction or Constraint?" – Lotta Olsson, DN
"Inger Frimansson is one of the few that received the price for Best Crime Novel of the year on several occasions from the Swedish Crime Writer Academy. Both times for the previous books on Justine Dalvik. It's been a while but now Frimansson has dusted of the series again. Inger herself says she has been wondering how things went for Justine Dalvik and her bird. Now we get to find out.
Frimansson is still the master of psychological suspense. She doesn't need much to create suspense. In the same style as the previous books there is always darkness lurking around the corner. She writes the story with ease and the contrasts to the horrible events are genius. The portrayals are what makes the whole book. The author manages to make all characters apprehensible and particularly interesting.
Only the fact that she ones again writes about Jusine Dalvik again makes her a runner up for the award to best Swedish crime of the year. 5 out 5." – Nisse Scherman
"…uninterrupted staggering suspense with constant new angles of approach and unexpected turns of events." -  Yvonne Teiffel, Jönköpingsposten Magazine
"Frimansson has a way of writing like no other, the language is like running water and the vivid descriptions are fantastic… The suspense rises in a masterful way, very subtle, until it is absorbed by every cell in your body. It's the type of book that is hard to let go of long after finishing reading it… I wonder if LONE BIRD will give Frimansson yet another price for best Swedish crime novel of the year. I'm willing to bet on it."  - annabokmal.blog.se