Gabriella Ullberg Westin
Straight into the mind of a criminal and society's coarse mesh net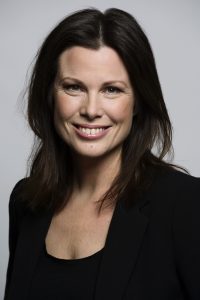 Rights sold
Bulgaria
Finland
Denmark
Norway
Sweden
Germany
Gabriella Ullberg Westin has placed her main character, detective inspector Johan Rokka, to solve crimes in her own hometown, the northern coast city of Hudiksvall.
With great concern about the psychology behind crime, an interest in the individual dilemmas that lead to crime and a personal drive in creating an intriguing puzzle for the reader her novels impress.
Gabriella has studied criminology at the University of Stockholm and research is very important to her before she begins to write: All work takes form after meetings and interviews with policemen with different specialties, real criminals, psychologists and prison officers.
To spice her crime novels Gabriella Ullberg Westin has added a great deal of erotic scenes and games. Here she is among the first when she bravely heats up the story with steamy love.
Gabriella has also studied fashion design in Florence, Italy and combined the studies with modelling. She also holds a Bachelor of Art in communication and before becoming a full time crime novelist she worked as Head of communication in one of the biggest Swedish telecom companies. She speaks Italian.
The moment when Gabriella got into crime novels came when reading Henning Mankell's "Faceless Killers", with total fascination Gabriella read everything by Mankell and understood that this was a way for her to also unite her passions, to write about crime with a strong pathos to the individual's and society.
She is married to a policeman and lives with him and their two children in Stockholm.
Interview with Gabriella Ullberg Westin in English:
http://crimebythebook.com/blog/2017/4/9/krimimessen-horsens-2017-author-interview-gabriella-ullberg-westin
To visit the author's webpage:
Bibliography
2018 - The Butcher (Slaktaren), crime novel
2017 - The Fixer (Fixaren), crime novel
2016 – The Runner (Springpojken), crime novel
2014 – Lone Girl (Ensamfjäril), crime novel
Author photo:  Petter Cohen
Contact us for photo rights